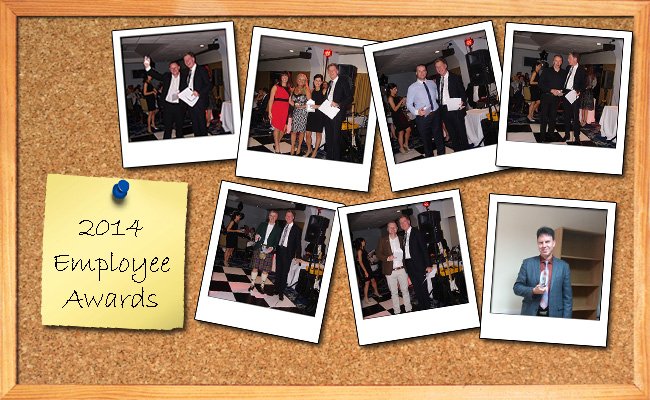 2014 Vital Energi Employee Awards
Vital Energi's stars got another chance to shine at our 2014 Annual Employee Awards where we celebrated the fantastic contributions and achievements of our staff throughout the year.
This year we added the Initiative Award, which meant we had 7 categories and the shortlists proved particularly strong, with judges acknowledging the extremely high standard of individual and team achievements.
This has been a year of outstanding achievements and we could have easily found many more people deserving of awards, so we would like to congratulate the winners for their success in what were extremely competitive categories.
We have fostered a sense of innovation, creativity and teamwork which has seen 2014 packed with success stories and it is wonderful to shine a spotlight on some of the people behind those achievements.
The awards were announced at the Company's annual Christmas party, with winners receiveing a trophy and cash prize.
Initiative Award
WINNER: Kenneth Kunz, Technical Director, Vital Efficienci, for his commitment and effort in developing the ECS SCADA System.
High Achiever Award
WINNER: Dan Wigglesworth, Project Engineer, District Heating Team, for the successful completion of the Cheltenham CEF district heating project and his enthusiast attitude towards his job role.
Initiative of the Year Award
Winner: Andrew Greenbank, Account Manager, Energy & Asset Management Department, for the operational work carried out on the York Hospital CEF project.
Leadership Award
WINNER: Mike Hooper, Director of Energy & Asset Management, for the restructure of the Energy & Asset Management department.
Team Award
WINNER: The i's Wide Open Team – Sharron, Ella & Abby, for the organisation and programme of our first staff event, i's Wide Open.
Safety Award
WINNER: West Whitlawburn Project Team
Employee of the Year
WINNER: Dave Raley, Contracts Manager, Projects North, for his commitment and pivotal role in the delivery of the CEF projects.
blog comments powered by

Disqus