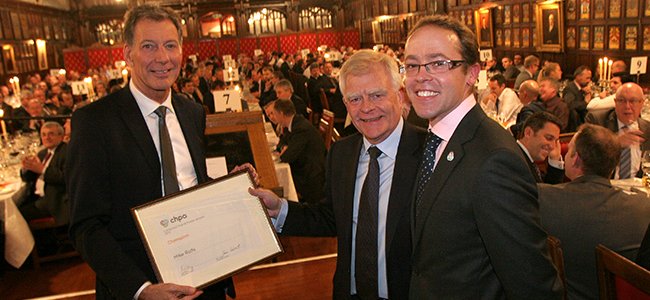 Schemes Tackling Fuel Poverty Sweep up at Energy Awards
Two energy projects created to help tackle fuel poverty for nearly 3,000 households in deprived inner city areas have won Combined Heat and Power Association (CHPA) Awards.
SSE and Vital Energi's carbon and cost saving community energy system on the Wyndford Estate in Glasgow won the Community and Residential award and Bunhill Heat and Power, created by Vital Energi on behalf of Islington Council, won the Public Sector Award for trimming residents' annual heating bills by £150.
At Wyndford the new CHP energy system, in conjunction with over-cladding of the estates tower blocks - saves 7,000 tonnes of carbon every year - the equivalent of flying around the earth 140 times. It also shaves 20 per cent off the heating bills of residents living in this deprived part of Glasgow. The judges said Wyndford was an 'outstanding' project, which has made a real difference to the lives of the community in which it is situated.
The highly-efficient CHP energy scheme at Bunhill, which cuts carbon by around 1,600 tonnes of CO2 a year, was chosen for succeeding in a challenging, inner-city environment and as a good example of a beneficial public/ private sector relationship. The judges said they admired how the revenue from the scheme is being used to make a positive impact in the lives of the Borough's residents by being passed on in reduced heat charges.
The pioneering CHP energy system, created for King's Cross Central by Metropolitan King's Cross and Vital Energi, was also highly commended in the Community and Residential category. The judges were impressed with the progress made on this high profile scheme - one of Europe's largest city centre regeneration projects.
Ian Whitelock, joint managing director of Vital Energi, said: "This really was a fantastic night for our staff and our partners, with two of our projects winning awards. We are extremely proud of the work we do and of all those hardworking and dedicated staff and other team members who helped in this achievement.
"Both projects will save money for hundreds of people at a time when energy bills are soaring and will therefore make a real difference to residents' lives."
blog comments powered by

Disqus