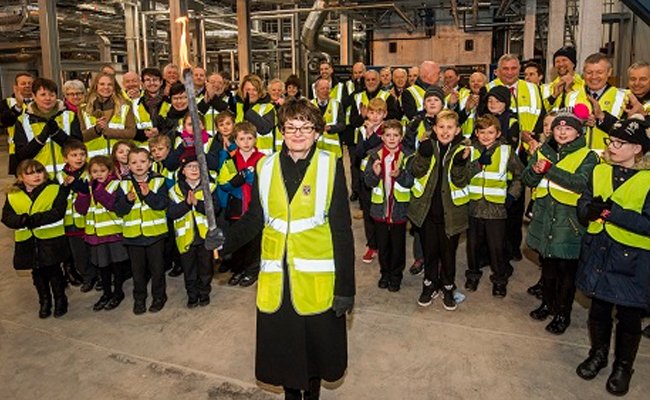 Award Winning Biomass Plant Commissioned
The University of St Andrews' strategic aim to become the UK's first carbon neutral university for energy usage took a major step today (Tuesday 6 December) when the biomass plant at the Eden Campus at Guardbridge was officially commissioned.
The £25 million plant on the east side of the former paper mill site produces hot water from a biomass boiler using clean, natural fuels from sustainable sources across Scotland, which is pumped underground four miles to St Andrews where it heats University buildings.
Last week the energy centre won a major national award at the Scottish Green Energy Awards 2016 defeating strong competition from across Scotland to take the prestigious Sustainable Development Award.
The project is funded by an £11 million loan from the Scottish Partnership for Regeneration in Urban Centres (SPRUCE) Fund, a joint Scottish Government and European Regional Development Fund initiative, managed by Amber Infrastructure Limited; a £10 million grant from the Scottish Funding Council, with the remaining £4 million coming from the University.
At a short commissioning ceremony at Guardbridge University Principal Professor Sally Mapstone officially lit the biomass boiler.
The ceremony was attended by representatives of the Guardbridge community and children from Guardbridge Primary School.
Officially opening the facility Professor Mapstone said:
"This is an important milestone on our journey to becoming the first University to be carbon neutral for our energy usage.
"To heat water and pump it four miles to heat our buildings and student residences is a considerable feat of engineering and I would commend our partners Vital Energi and all those who made it possible for a great achievement.
"We have renamed this part of the University estate The Eden Campus.
"The biomass plant is at the heart of the regeneration of the Campus which will breathe new life into the wider Guardbridge community."
Mike Cooke, Regional Director for Vital Energi said:
"By working with the University we have been able to ensure that this project has already delivered significant employment and economic benefits to Fife and the wider community and now, the scheme will begin to deliver the economic benefits for decades to come.
"This award-winning project will now deliver 6,000 tonnes of carbon reductions each year, which is a huge step towards the University's ambition of carbon neutrality and a great addition to Scotland's growing sustainable energy infrastructure."
blog comments powered by

Disqus