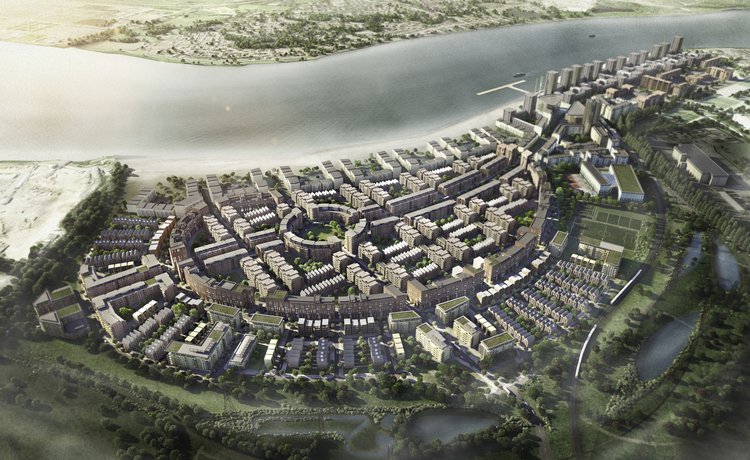 Barking's Energy Scheme Sees Further Development
After the successful delivery of the prefabricated temporary energy centre at the Barking Riverside development in London, we have been busy completing internal infrastructure installations within the apartment blocks that are under construction.
Vital have been involved with the development's energy scheme since 2016 when we first begun designing the district heating network to grow alongside the site. Our solution has seen us connect the apartment blocks to the temporary energy centre as they are constructed in what will eventually be a unique 5.2km weather compensated district heating network.
Our most recent scope of works has required the installation of the riser and lateral pipework and associated supports into a range of blocks across the development, along with an intensive testing process to ensure the quality of our work. Challenges were faced due to third party work taking place simultaneously to our installation which required careful coordination and communication to overcome. It was necessary to benchmark our planning and delivery processes in order to create a similar practice to other onsite workers and complete a successful collaborative installation.
Dean Walsh, Vital Energi Contracts Manager, explains, "It is common practice for us to complete our installations alongside other ongoing works, especially on a site of this size, and therefore we have the experience necessary to efficiently coordinate our work in line with third party requirements. The success of our internal installations so far have led to an additional contract on a further block which we are currently completing.
"With the development yet to benefit from our bespoke heat interface unit designed specifically for the project, we are excited to see the rest of the scheme grow and to provide the main energy centre which will come online in 2021."
Matthew Carpen, Managing Director at Barking Riverside Limited, added, "It is great to see the first part of the district heating network operational and ready to provide heat for our new residents this spring as we look forward to working with Vital Energy and the L&Q Energy Ltd team to roll out the network across future phases of the development."
Barking Riverside is one the UK's largest housing projects being delivered across 443 acres. Delivered through a joint venture between L&Q and the GLA, it will create a new district the sise of Windsor on the banks of the river Thames. The project will deliver 10,800 homes, 65,000 sq m of commercial, retail and leisure space, a London Overground station, cycling and walking networks, seven schools of which four have already been delivered.
We have tailored the delivery of the scheme to suit the site's requirements, resulting in multiple smaller projects that are installed alongside the growth of the development.
blog comments powered by

Disqus