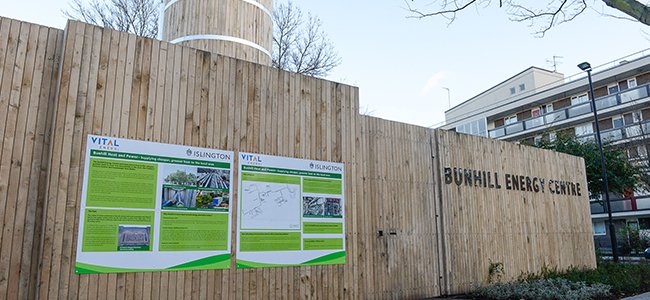 Bunhill Energy Centre is Fourth Must-See Building in London
Bunhill Heat and Power Energy Centre is London's fourth must-see building to visit during Open House London weekend on 21-22 September 2013, according to the capital's Time Out magazine.
From the 830 participating properties Time Out has picked 16 must-see addresses to visit during the annual capital-wide festival of architecture.
At number four is Bunhill Heat and Power which was designed and installed by Vital Energi and which Time Out describes as delivering cheaper, greener heat to Islington's residents by 'recycling the energy given off in the production of electricity'.
Vital Energi and Islington Council are conducting tours of Bunhill on Saturday 21 September from 10am to 5pm on a first come, first served basis. Visitors will be shown around the innovative Combined Heat and Power (CHP) energy centre which generates electricity and heat for more than 700 households in the Stafford Cripps, Redbrick and St Luke's estates off Old Street, Finsbury Leisure Centre in Norman Street, and the Ironmonger Row Baths.
This year's Open House London theme is 'Celebrating architecture, people and place'. The festival allows access to hundreds of buildings not normally open to the public. Number one on Time Out's top picks is Battersea Power Station, followed by Hindu temple, Shri Swaminoraya Mandir, at number two and Brixton Windmill at number three.
blog comments powered by

Disqus