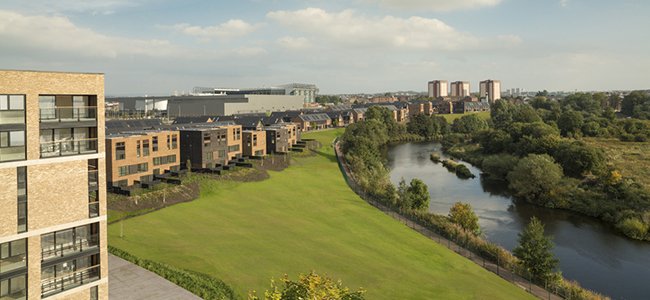 Community Heating Helps Glasgow's Athlete's Village Win Top Housing Award
Vital Energi's bespoke low carbon community heating system has helped the Athletes' Village for the 2014 Commonwealth Games in Glasgow win the award for Best Green Initiative at the prestigious Homes for Scotland Awards 2013.
The awards celebrate the success of the home building industry across a range of issues which remain key to the sectors ongoing drive towards recovery. Accolades were given to stand-out submissions which showcased new and innovative approaches to the low carbon and environmental agendas, housing delivery, partnership working and customer awareness.
The Athletes' Village for the 2014 Commonwealth Games in Glasgow is being delivered by the City Legacy Consortium which is made up of house building companies Mactaggart and Mickel, CCG, Cruden and WH Malcolm.
Around 6500 athletes and officials will stay in the Athletes' Village during the games which have been billed as the 'greenest games eve'. The new homes are being built to achieve "eco homes excellent" standard and deliver a 60 per cent reduction in carbon emissions. The addition of Vital Energi's low carbon community heating system should increase the level of carbon reduction to 95 per cent.
The £10 million community heating system is the largest district heating network ever installed for a new build development and is nearly double the size of the network installed at the Olympic Village in London.
It will provide heat and hot water to the Emirates Arena and Sir Chris Hoy Velodrome, the 704-home Athletes' Village, a 120 bed care home and to an additional 750 new homes that will be built after the Commonwealth Games finish as part of the Legacy phase of this significant construction project.
Vital Energi has recently been awarded a new £1.3 million contract to install an additional CHP engine in the energy centre to provide extra capacity during the games and for the Legacy phase.
Ian Whitelock, joint managing director of Vital Energi, commented: "We are delighted to have contributed to the success of this significant construction project and to have been trusted with the expansion of the energy centre to accommodate additional development."
"Vital Energi is very proud to be assisting Glasgow with its ambitions to become one of Europe's most sustainable cities and leave a lasting games legacy for future generations."
blog comments powered by

Disqus