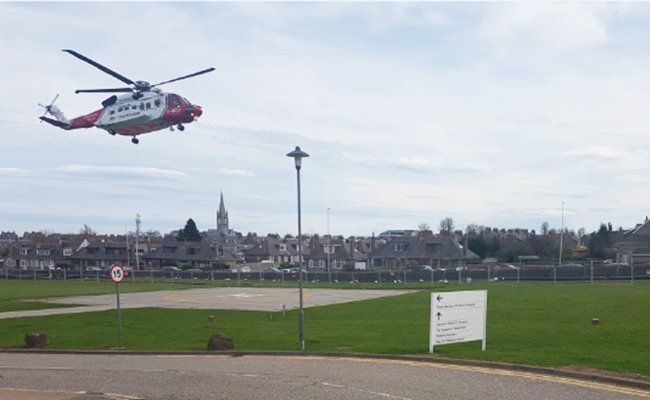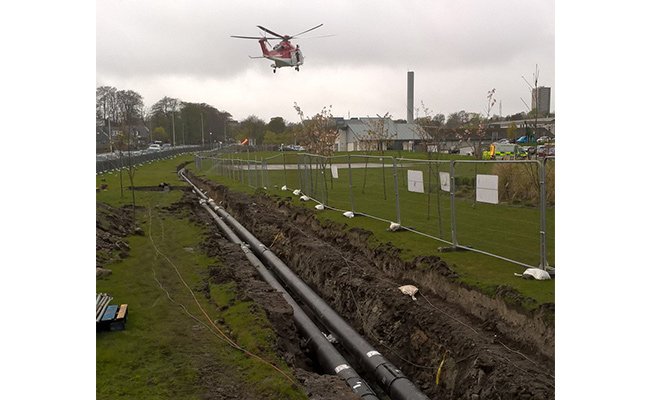 District Heating Takes Off At NHS Grampian
The 2.5km district heating network at NHS Grampian has seen a critical installation recently with one of the installs taking place alongside the Hospital's emergency helipad.
The district heating network will connect Royal Cornhill Hospital and Aberdeen Royal Infirmary to the CHP energy centre scheme being installed at Foresterhill Health Campus.
Vital Energi's project team have been working on a 240m energy link excavation comprising of district heating pipework, communications and HV cabling and passes close to the helipad.
The helipad is used for emergencies so there could be no equipment or operatives within 100m of the helipad when a helicopter was coming into land due to the downforce from the rotor blades and risk of FOD (foreign object debris).
Vital have worked closely with NHS Grampian's professional team and the challenging constraints in this complex and critical environment to ensure there is no disruption to their day-to-day operational services.
The project team worked hard to ensure they could complete the evacuation process within rigid time constraints.
Regional Director, Mike Cooke, commented, "We placed huge emphasis on the engagement plan and communications with NHS Grampian Logistics team who contributed to our methodology and evacuation procedure prior to our work commencing. The team have worked extremely well to execute the precise requirements whilst maintaining excellent communication throughout this part of the project."
Other recent activity on the project has included the following:
- Asbestos removal and demolition works of the redundant Mile End Boilerhouse.
- Connection of the energy network to the existing Cornhill Hospital energy centre to introduce the low carbon heat and power across the wider estate.
- Public engagement to ensure as little disruption as possible to neighbouring properties including traffic management.
- Children's Energy Day at Royal Aberdeen Children's Hospital to educate about sustainable energy and our work on this project.
Work is progressing well and is expected to be completed during August 2017.
blog comments powered by

Disqus