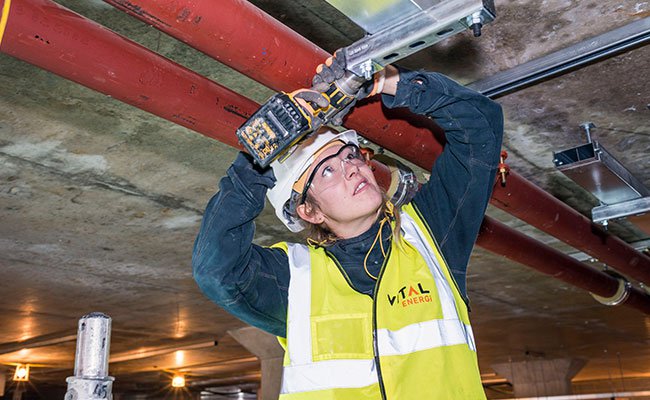 Encouraging Women into Engineering Should be a Top Priority
The number of female engineers in the UK is rising. In a recent nationwide WISE study, the percentage of women in engineering has risen from 9% in 2015 to 12% in 2018. Although there has been steady progress made, we want to improve this growth and encourage more women to consider a role in engineering and add their skills into the industry, along with exposing the career paths for existing female engineers to allow them to have a greater role in the sector.
At Vital, we are above industry average with 18% of our workforce being female, increasing from 15% in 2017, and we are optimistic that this will continue to grow. Increasing engagement and exposure to the engineering industry by displaying the exciting opportunities available in the sector is key to achieving this.
Paul Kay, Building Services and Design Director, explains, "The opportunities in the engineering industry go far beyond the perception of heavy industrial plant and equipment, or wearing overalls and manufacturing items on the shop floor. Engineering is about tapping into your creativity to shape the future, utilising and applying renewable technologies, and discovering solutions for issues that we may not even know exist yet."
Engineering offers the opportunity to be involved with innovations and schemes that have the potential to change the norm. Take Mária Telkes, for example, who, along with numerous other notable achievements, worked with architect Eleanor Raymond to create the first solar-heated house in 1948, paving the way for the solar panels we commonly see today. An innovation that has greatly assisted in the growth of the renewable energy market.
In order for the industry to continue to grow and develop, a collaboration of male and female engineers is needed. Each different person can bring their own ideas and unique skillset to explore methods beyond what is currently thought possible to constantly improve everything around us.
The roles available in the engineering sector include job titles such as Mechanical Design Engineer, Quality Assurance Engineer, Project Engineer, Electrical Design Engineer, CAD Engineer, Planning Engineer, Energy Optimisation Engineer…the list goes on - and these are just the types of roles fulfilled here at Vital, the wider industry has even more on offer. Each of these jobs fulfil different duties including designing, assessing, managing, monitoring, operating, maintaining, and planning engineering innovations, so there is little room to be bored.
And there are so many ways to enter the industry. Be it through Graduate Schemes, placements and internships, apprenticeships, or studying part-time for your university degree whilst working full-time within the sector, there's an option to suit all.
But, why engineering?
Graduate Design Engineer, Lucinda Walker Tully, explains, "A career in engineering is good as there is such a wide range of opportunities within the industry that you are sure to be able to find something that you enjoy. Working on projects which produce a tangible outcome also brings a high sense of satisfaction. There is always something new to learn and technology is always advancing which makes it an exciting sector to be a part of." Read her story by clicking here.
Emma Holden, Graduate Design Engineer, adds, "I enjoy the variety of different projects that I have the opportunity to work on as nothing is ever the same which keeps it interesting and lets me learn new things every day. I'd encourage a career in engineering because it is a very relevant and important industry to be a part of, especially given the current situation regarding climate change. You get to design, build and influence projects that have positive impacts for clients, customers and the environment." Read her story by clicking here.
At Vital, we want to take that step further, as it is not enough to just tell someone that engineering could be for them, we need to show them. Over the coming months, we will be bringing our female colleagues together to take students behind the scenes of our energy schemes to allow them to learn more about the work that goes into our projects and how the equipment operates, to help shape future careers.
We endeavour to engage and educate local students on our projects to show them the creativity that goes into engineering, such as offering work placements and apprenticeship opportunities on many of our projects including the University of Strathclyde and the Leeds PIPES Network.
Engagement can happen at any age. Even giving primary school students a taster into the world of engineering can raise young people's interest in STEM subjects and be beneficial when later encouraging a career in the industry. We've found that opening the doors of our energy centres and giving tours to a range of ages is the most effective, which is why we regularly invite guests to our sites across the country such as the biomass scheme at the University of St Andrews and the two CHP energy centres at the University of Liverpool.
Encouraging more women into engineering should be a top priority to help raise the profile of the industry, grow the skillset, and potentially change someone's future. But, being open-minded to the possibility of becoming an engineer is the first step to unlock your potential and maybe even spark a career passion that you didn't know was there. Seizing every opportunity is the second, so don't knock it until you've tried it.
blog comments powered by

Disqus