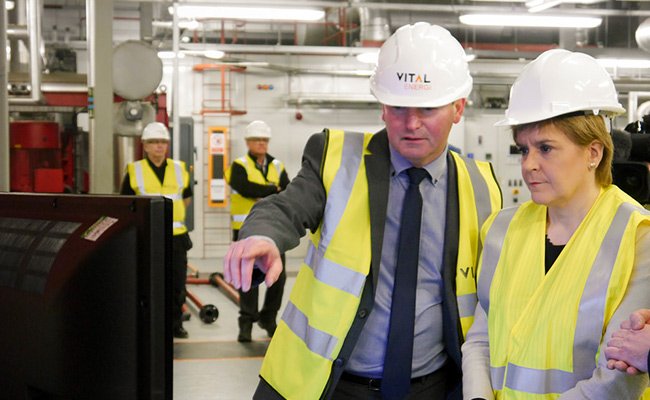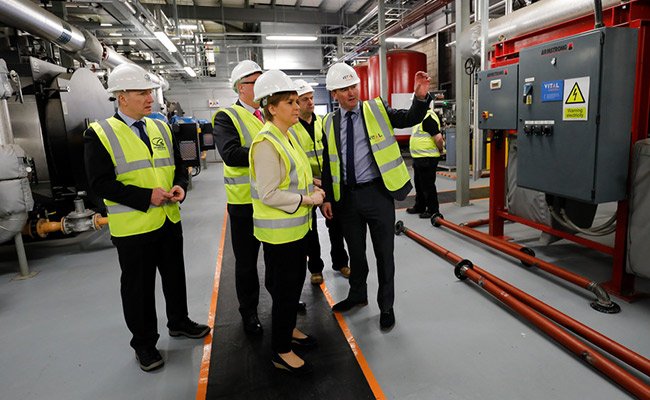 First Minister Visits Commonwealth Games Energy Centre
Vital Energi played host to Scotland's First Minister Nicola Sturgeon recently when she visited the 2014 Glasgow Commonwealth Games Athletes' Village to take a tour of the low carbon energy centre which provides electricity and heating for the 700+ home development.
Vital began working on the Commonwealth Games energy solution in 2011 and as part of the project, installed 28km of district heating, which was the largest single installation of district heating pipework in Europe. The system utilises a Combined Heat & Power (CHP) engine which, uses the heat created during electricity generation, which is normally wasted, to provide more affordable, low-carbon heating.
The First Minister was guided around the energy centre by Vital Energi Project Director Hugh Thompson, who said, "As a country, Scotland has been a trail blazer for decarbonising their energy supply and The First Minister was extremely interested in our scheme, which now produces low-carbon energy and is a fantastic part of the legacy of the Commonwealth Games, which we can all be very proud of."
As part of her day, the First Minister also visited Silverdale Nursery which, along with the Sir Chris Hoy Velodrome, is connected to the district heating network. The First Minister commented, "Silverdale Nursery is a great example of how local energy needs can be met more efficiently and cheaper, whilst also helping tackle climate change."
"Since 2008 over one million energy efficiency measures have been delivered to almost one million Scottish households. We have already invested more than £650 million since 2009 - and are committed to making another £0.5 billion available over the next four years - to tackle fuel poverty and improve energy efficiency across Scotland."
If you'd like to know about the energy solution which helped make Glasgow 2014 the greenest games ever, click on the case study here.
blog comments powered by

Disqus