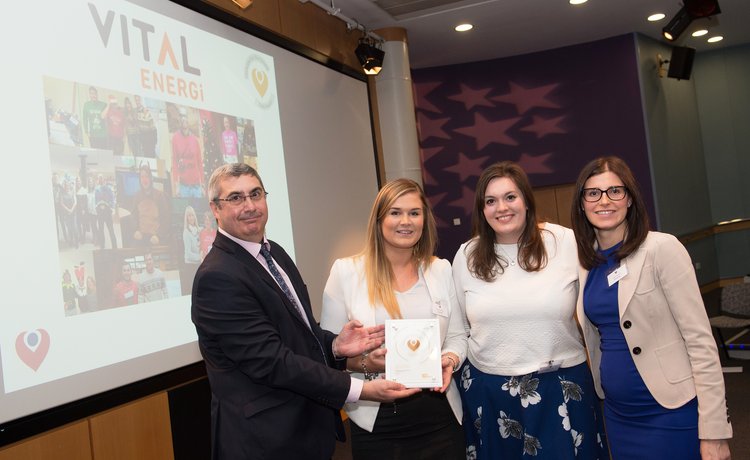 Gold Award for Supporting the Christie
Vital Energi was recently invited to an awards reception by The Christie to celebrate over 10 years of supporting its efforts as a corporate fundraising partner and we were delighted to be presented with a 'Dedicated to The Christie' Gold Award.
Abby Whitelock, Marketing Manager, who represented Vital Energi at the reception commented, "The Christie is a fantastic charity and it is our privilege to support it. There are so many people at Vital who support its work and come up with great ideas to raise money and their enthusiasm is the reason for us receiving this award. We'd like to thank the people behind the countless bake sales, Christmas Jumper days, sponsored events and auctions for their time and generosity and, most of all, we'd like to thank The Christie for the amazing work it does."
The event, held at The Christie's Education Centre, saw a world-leading clinician explain how this support is making a real difference and The Christie revealed that it had raised over £1m from its corporate partners, which will go towards various projects and services including the development of a state of the art Integrated Procedures Unit and a dedicated research facility within the UK's first high energy proton beam therapy centre which is due to open in 2018.
Mary McLaughlin, Corporate Fundraising Officer, said, "We were so pleased to be able to honour the team at Vital Energi with their Dedicated to The Christie Gold Award, their tireless efforts to raise money for our charity over the years have helped to enable us to continue providing the extra services to our patients that make such a difference to their experience here. We would like to thank them once again for their generosity of both money and spirit"
The Christie charity supports the work of The Christie NHS Foundation Trust and is one of the largest NHS charities in the UK. It provides enhanced services over and above what the NHS funds. It has over 43,000 supporters, who helped raise £15.8m last year.
blog comments powered by

Disqus