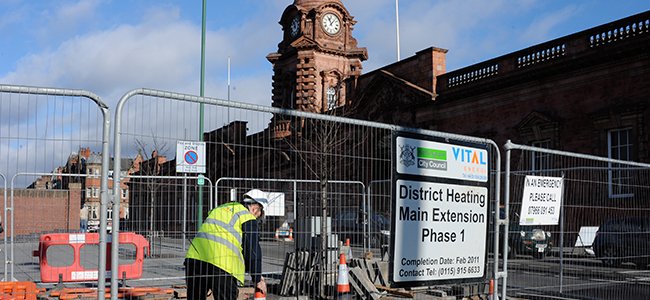 Government Officials Visit UK's Largest City Heat Network
Nottingham's 30-year-old city heat network - the largest in the country - was chosen for an event in November aimed at showing bankers and government officials a real heat network in action.
Officials from the Green Investment Bank (GIB), the Department of Energy and Climate Change (DECC) and the Department for Business, Innovation and Skills (BIS) attended the event that was held on 20 November 2013 and organised by the Combined Heat and Power Association (CHPA).
The group were received presentations from owners, Nottingham City Council, operators, Enviroenergy, and Vital Energi, which has installed 85km of district heating pipework in Nottingham in the past 30 years.
Delegates were also given a tour of the district heating network which connects 4,600 homes and 100 commercial premises and the City's Heat Station and Turbine Hall, which is powered by steam from one of the first waste-to-energy incinerators in the UK.
The aim of the event was to show delegates how a city heat network works in practice, how it is managed, how the funding is spent and what the benefits are.
Paul Allam, Green Investment Bank, commented: "I thought the trip was really informative and interesting. It is always good to see an energy centre first hand to put into context the work we do. It was also good to catch up with the work that Vital Energi and Enviroenergy are doing, and the plans for expansion of the Nottingham network."
blog comments powered by

Disqus