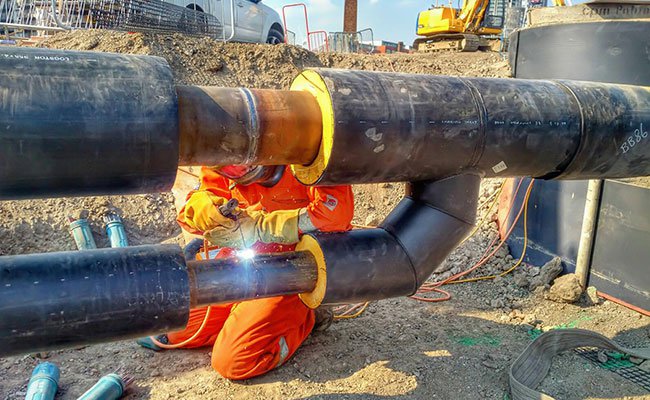 Heat networks industry announces plan to create thousands of 'green collar' jobs
The heat networks industry, which delivers heat to close to 500,000 customers across the country as an alternative to heating from individual gas boilers, has launched the Heat Networks Industry Council (HNIC) today at an online event with Energy and Clean Growth Minister, Kwasi Kwarteng MP.
The industry has set out its pledge to support £30-50bn of investment and the creation of up to 35,000 new direct jobs by 2050, with the right policy frameworks in place.
Minister for Energy and Clean Growth Kwasi Kwarteng said: "Heat networks will play a vital role in a future net-zero economy by helping to decarbonise how we heat our buildings while creating new green jobs.
"The government's £270m Green Heat Networks Fund underlines our support for the industry, and we back the new Heat Networks Industry Council to deliver on its ambitions for investment and job creation as part of reaching net zero emissions by 2050."
Dan McGrail, Chair of The Heat Networks Industry Council said: "The heat networks industry can play a big role in helping the UK reach our net zero carbon targets. The pandemic has caused a difficult economic situation but, today, our industry is setting out our shared ambition to create investment and jobs, accelerate carbon reduction, deliver consistent and excellent customer experiences and ultimately create smarter, more liveable cities across the country".
The HNIC offer, detailed directly to government and launched at today's event, includes the ambition to deliver:
Universal zero carbon heat networks by 2035;
The capability (investment, skills, supply chain) necessary for 18% of UK heat demand to be met through heat networks by 2050;
Up to 35,000 new direct jobs in the sector by 2050;
Investment of up to £50bn into the UK market by 2050;
City-wide strategic heat network plans for all major cities by 2030;
Consistent and excellent customer experience for all heat network users;
Efficient and low cost, digitally-enabled heat for all networks;
The HNIC includes the spectrum of companies involved in the delivery of heat, including heat network providers to tens of thousands of customers. Founding members include Siemens, SSE Heat Networks, Veolia, EDF Energy, Energetik, Switch2, EON-UK, Vattenfall, Pinnacle Power, Vital Energi, Engie, Ramboll, Jeremy Bungey sitting as an Independent and Metropolitan. New HNIC members include Guru Systems, Insite Energy, London & Quadrant, Star Renewables, Uniper, Bristol Council, Enviroenergy and Viridor.
The HNIC encourages heat network companies in the UK to sign up to the ask and offer of the Council.
At the launch of HNIC today, moderated by Politico's Ryan Heath, industry members heard from; Polly Billington, Director of UK100, Doug Parr, Greenpeace Chief Scientist and Policy Director; and Lord Duncan of Springbank, who was Parliamentary Under Secretary of State for the Department of Business, Energy and Industrial Strategy from July 2019 to February 2020.
Dan McGrail, Chair of The Heat Networks Industry Council said: "We understand the economic challenges ahead of us as a country, which is why we want to do all that we can as the heat network industry to create jobs and investment. Our investment will generate jobs and will contribute to a sustainable economic transition in line with the United Kingdom's net zero targets."
According to research from the House of Commons Science and Technology Committee, the Climate Change Committee and the IPPR Economic Justice Commission, investing in non-gas boiler heating solutions is a top priority for sustainable investment that takes the country along the path to net zero.Heat
blog comments powered by

Disqus