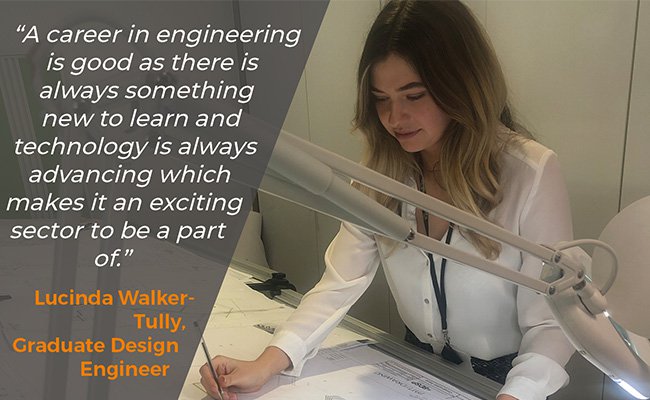 International Women in Engineering Day 2019: Meet Lucinda Walker-Tully
Lucinda Walker-Tully is currently completing the 3 year Graduate Scheme as a Graduate Design Engineer in our London team which will see her complete modules in all areas of the business before deciding on her final career path. Here's her story…
"I always enjoyed STEM subjects at school and had a passion for the environment, so I chose to study Energy Engineering at university. I completed a placement year in industry working within rail and building services before joining Vital almost a year and a half ago. For the first 9 months of my time with Vital, I was working on site as a Project Engineer before moving into the Design department where I am currently based.
"I am involved with producing a number of different calculations for projects, such as load or pump sizing using software such as EPro and AutoCAD. I have been heavily involved with the creation of a new water treatment specification which has been interesting and rewarding.
"I enjoy my role as I like to put theories and information I learnt at university into practice for real world scenarios, and I get to be involved with projects that produce tangible end results which often improve a local area.
"A career in engineering is good as there is such a wide range of opportunities within the industry that you are sure to be able to find something that you enjoy. Working on projects which produce a tangible outcome also brings a high sense of satisfaction. There is always something new to learn and technology is always advancing which makes it an exciting sector to be a part of.
"To those deciding upon their career, I would advise that you choose subjects that you enjoy and challenge you, and keep an open mind to opportunities – when I was at school, I didn't know half the jobs I would later come across even existed! Seek varied advice from your peers and seniors, especially those who have gone down a similar route to one you may be pursuing. My placement year was invaluable so make sure you take any opportunity for experience, even if for nothing other than to find out what you don't like."
blog comments powered by

Disqus