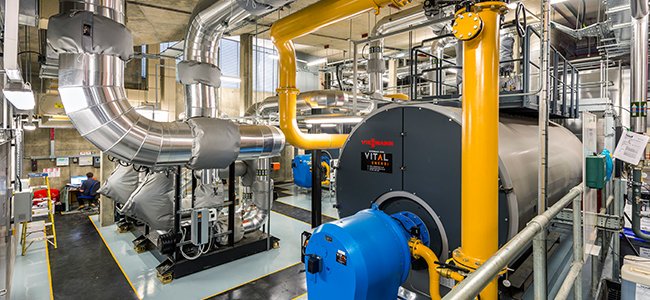 Kings Cross Central Included in World's Top 100 Sustainable Solutions
Europe's largest city centre regeneration scheme - King's Cross Central - has been included in an annual guide to the world's 100 most innovative and sustainable solutions and at its heart, providing the energy, is the Vital Energi Combined Heat and Power (CHP) centre.
The guide, produced by Sustainia100, states: "When complete, 45,000 people will live, work, or study in King's Cross, demonstrating that sustainable solutions are viable, can improve people's lives and are available on a massive scale in cities."
The new eight million square foot King's Cross development consists of 25 new office buildings, 20 new streets and 1,900 new homes.
The Combined Heat and Power (CHP) plant will deliver 100 per cent of the heat and hot water needs and 80 per cent of the electricity for the 67-acre city centre development. It is anticipated that once the scheme is fully populated it will exceed 85 per cent efficiency, compared to 30 per cent for a conventional UK electricity supply.
Ian Whitelock, joint managing director of Vital Energi, said: "In the heart of London, the King's Cross development is achieving sustainability, while protecting cultural heritage.
"We are delighted to have been involved in the creation of this pioneering scheme and to have worked in partnership with Argent and Metropolitan to create the CHP energy centre which is cutting carbon emissions by 50 per cent and therefore making a significant contribution towards the development's sustainability targets."
Arnold Schwarzenegger, Honorary Chair of Sustainia100, commented: "The era of talk is over. It is time for action - and the companies, institutions and persons who represent green solutions are the new breed of action heroes whose efforts we should celebrate and encourage."
blog comments powered by

Disqus