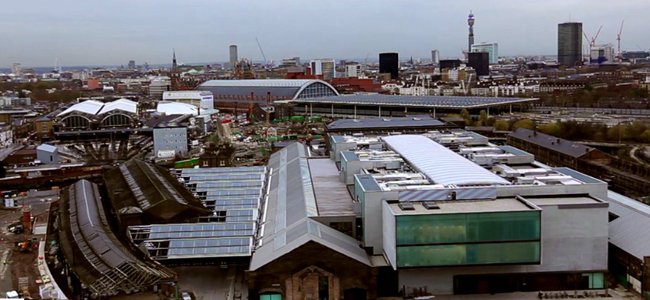 Kings Cross Film Launch
Vital Energi is celebrating the launch of the new King's Cross Energy Centre with the release of a four minute movie on our brand new website www.vitalenergi.co.uk. The film marks Vital Energi's six year involvement in the redevelopment project which has seen us not only design and install the Energy Centre and district heating network, but also become involved with the energy strategy.
King's Cross Development - Phase 2 CHP Energy Centre from Vital Energi on Vimeo.
When finished, the £2 billion, 67 acre site will contain 20 new streets and has already delivered the largest public square in the capital since Trafalgar Square and will play host to the 45,000 people who work, live or study there.
The King's Cross development is the largest in London for 150 years and is a great example of how an energy solution can be delivered in phases, something which was essential as the energy infrastructure would evolve parallel to the construction work.
Initially Vital Energi were contracted to deliver the district heating for the site before winning the contract to design, build and install the main energy centre. By working closely with developers and understanding their requirements we were able to become involved with the energy strategy to provide sustainable and economical heat and hot water.
One of these innovative solutions involved creating a "temporary" energy centre which would serve the needs of the development in its initial stages. This allowed the developers to defer capital investment and also ensured that the appropriate amount of energy was always available to serve the needs of the project. The temporary plant gave the developers several future options, allowing them to sell it, move it to another site or integrate it into the final energy centre.
The film features many of our partners on the project including John Marsh – Operations Director for Metropolitan and Clare Hebbes - Senior Project Director for Argent, who explains how Vital Energi helped to develop the project's energy infrastructure to keep pace with the construction of the new buildings.
Much of the filming took place at the launch event of the King's Cross Energy Centre where the plant was officially turned on by Cllr Phil Jones of Camden Council who described the development as "A real success story for London."
Participants are united in praising Vital Energi for our commitment to building partnerships, problem solving and our flexibility. The movie highlights what a successful partnership project the King's Cross Energy Centre has been so far and Vital Energi are looking forward to our continued involvement with the development for years to come. We will continue to connect buildings to the heating network and are responsible for the operations and maintenance of the energy centre for the next 25 years.
Vital Energi have previously produced a 6 minute video, which details the construction of the Energy Centre and can be found here: https://vimeo.com/88737709
blog comments powered by

Disqus