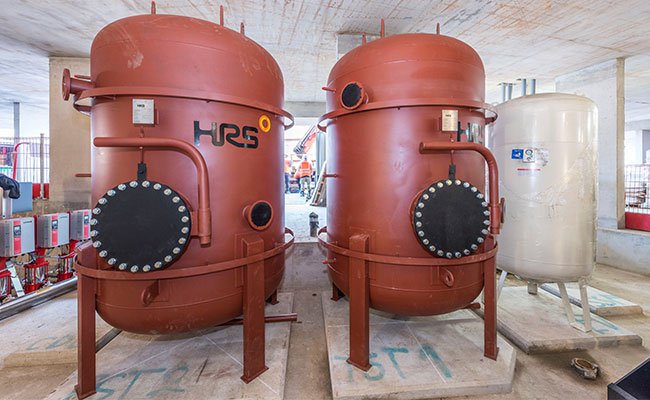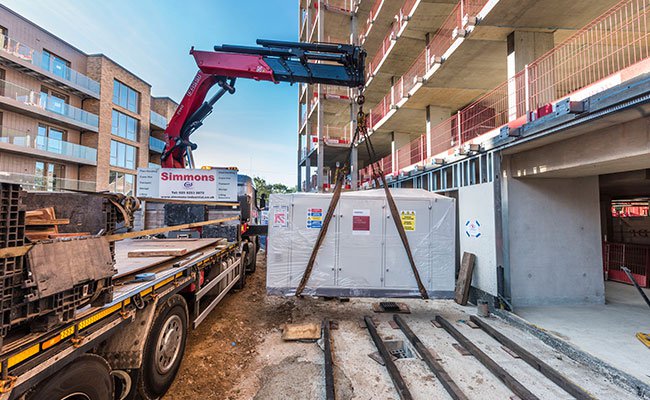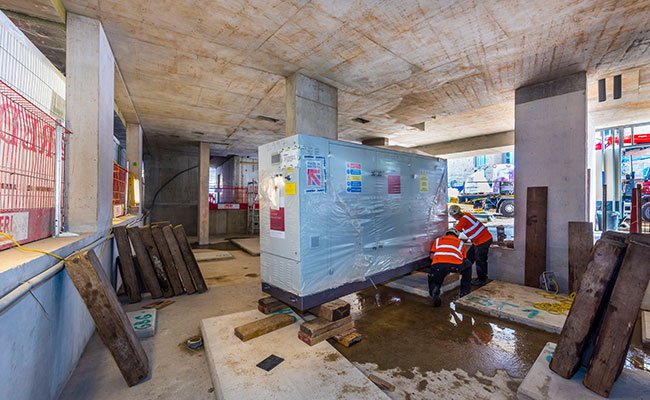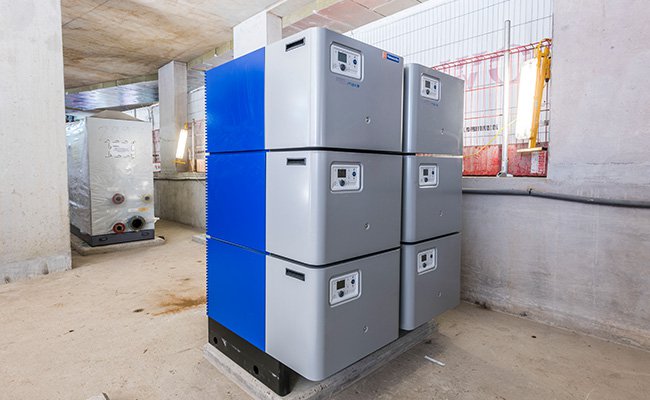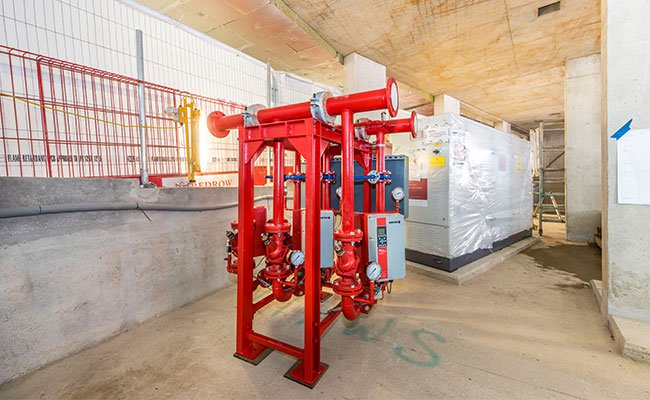 Kitting Out Redrow's Energy Centre
Construction is progressing well at Redrow's Padcroft site, following the delivery and installation of major plant and equipment within the energy centre. The development, which spans a two-and-a-half acre site, is the house builder's latest project in London's West Drayton, and comprises a collection of 308 one, two, and three-bedroom luxury apartments.
The scheme saw the delivery of its 90kW CHP engine, two 750kw gas boilers, two 5,000 litre thermal store, expansion vessels, low-temperature hot water and boosted cold-water skids, water softener, gas booster, vacuum degasser and chlorine unit over a period of two days. Delivery of all the equipment was scheduled to take place together due to the spatial restrictions of the site and the construction programme.
The site posed challenges due to restricted space and a number of vehicles entering and exiting with only one entrance and exit, therefore we had to create a schedule that would cause minimal disruption to other onsite work. To ensure deliveries are kept to a minimum, we employed a 3rd party plant movement company who took delivery of all plant and equipment through nine separate deliveries. They then delivered the plant to site over two days which eliminated the need for singular deliveries from each manufacturer and reduced the number of deliveries to two. This minimised the number of vehicles needed and therefore assisted in the ease of the deliveries.
As the energy centre plant room is located inside one of the apartment blocks, there was limited area to manoeuvre the equipment requiring a solution to maximise the available space. We tailored our schedule around the development's construction schedule to allow for an area, which will eventually become an apartment, to be utilised as a temporary entrance to the energy centre before being transformed into a property. This provided the necessary room for the plant to be moved into position, taking additional care due to the energy centre residing approximately 1.5m below ground level.
Billy King, Project Manager at Vital Energi, explains, "The decision to have all the major plant delivered together was taken in order to ensure an effective and efficient installation. Co-ordinating our schedule closely with the client's logistic team and other onsite workers ensured a smooth implementation.
"The next part of the project will see all the energy centre plant pipework manufactured and connected, and low temperature hot water risers and laterals, with boosted cold-water services to all floors, installed into the remaining six apartment blocks. Additionally, district heating and gas installations and connections are to be completed, with work expected to finish early next year."
We began working on the £2.6m energy scheme in 2018 which will provide the spatial heating and domestic hot water for a mixture of one, two and three-bedroom apartments when completed.
blog comments powered by

Disqus