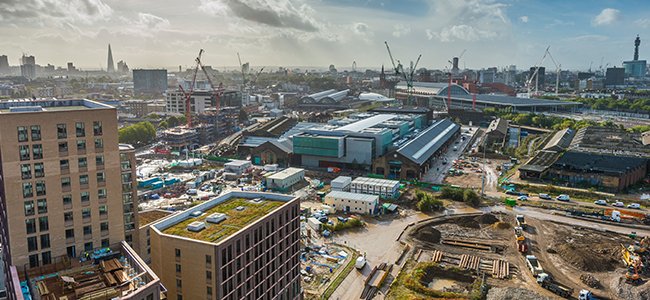 London's Greenest Building Joins Vital Energis Heat Network
Set to be London's greenest building, Five Pancras Square is the newest addition to the high profile King's Cross Central development which is powered by Vital Energi's pioneering community energy scheme.
Five Pancras Square will be Camden Council's new home when it is completed in 2014. It is the first building in the capital to achieve a BREEAM sustainable design rating of 'Outstanding' and won first place in the 'other buildings' category of the 2013 BREEAM Awards in March 2013.
The 13-storey building is the first of its kind to combine a swimming pool, leisure centre, library, customer access centre, cafe and office accommodation and still achieve such a high environmental rating.
It is connected to Vital Energi's sustainable energy system which uses combined heat and power technology to provide locally-generated electricity and supply heat and hot water via an underground network of district heating pipes to all the buildings on the eight million square foot King's Cross Central development.
It has achieved its high environmental rating by combining several environmental features including angled cladding to give solar shading and control heat gain, a brown roof, to enhance biodiversity and assist with controlling peak storm water run-off, and an energy-efficient hybrid ventilation system. The performance and operation of the building will be carefully controlled and monitored by an intelligent building management system.
Overall, Five Pancras Square is expected to achieve carbon emissions that are 50 per cent lower than required by the 2010 Building Regulations. By moving into its new offices, Camden Council is cutting its carbon emissions by an estimated 64 per cent - the equivalent to the annual carbon footprint of 435 Camden residents - and cutting its energy costs by a projected £500,000 a year.
Ian Whitelock, joint managing director of Vital Energi, said: "This is another excellent first for this exemplar development which is setting standards in environmental credentials in the capital.
"We are delighted that our community heating scheme has made such a significant contribution to making King's Cross Central one of the most sustainable developments in London."
King's Cross Central is Europe's largest city centre regeneration scheme and one of the UK's most significant and high profile developments. The £2 billion, 67-acre development even has its own postcode - N1C.
The development scooped the Regeneration Award at the 2013 Property Week Awards and was described by the magazine as having 'transformed the area into a new London district'.
blog comments powered by

Disqus