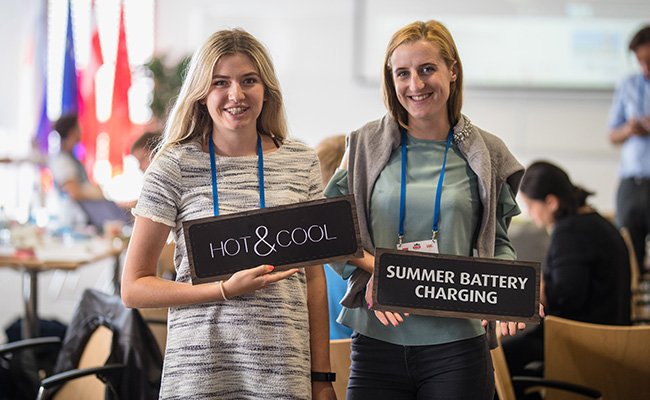 New Graduate Programme Launched
Our newly redeveloped Graduate Programme has just welcomed its first two recruits to the team to begin their three year Vital journey in our London team.
Megan Owen and Lucinda Walker-Tully have recently joined the Vital team as Graduate Project Engineers and will be the first to complete the new programme. Over the course of three years, Megan and Lucinda will be coached by senior members of staff to complete a range of office and site-based modules within all areas of the business including Design, Project Engineering, Planning, Operation & Maintenance and Surveying. This allows the graduates to gain well-rounded skills and experiences in all departments to identify where their strongest skills and interests lie. At the end of the programme, they will decide upon which area they wish to specialise in and pursue as their career.
The programme has already seen Megan and Lucinda take part in a range of activities such as installing heat meters and thermostats, completing quality assurance checks on ductwork and HIU installations, and finalising projects to achieve practical completion. They also attended Euroheat and Power's 6th International DHC+ Summer School in Ljubljana, Slovenia which explored the future of the district heating industry and innovative trends such as digitalisation. During the course of the week, Megan and Lucinda attended lectures by district heating experts and site tours of various energy plants around the city, as well as taking part in group tasks to develop ideas for the future.
Megan, comments, "The Graduate Programme at Vital interested me due to the opportunity to gain experience in a range of departments and learn from senior industry figures. I am thrilled to have begun the scheme and have already developed my skills in a various areas from operation and maintenance to quality assurance, and look forward to learning more about the sector."
Lucinda, adds, "I am very excited to have been given the opportunity to take part in the scheme as it will allow for my knowledge on the way each area of the business works together to deliver innovative energy schemes. I have enjoyed visiting live sites to witness the work required to complete energy centre installations, and working closely with our team and the client to maintain our high project standards."
The redesigned scheme will provide the requirements for the graduates to apply for a corporate membership to CIBSE.
blog comments powered by

Disqus