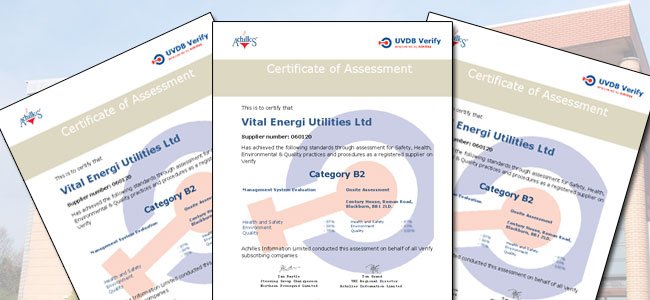 No Achilles Heel for Vital
We are happy to announce that, after an extensive, in-depth audit, we have retained our Achilles B2 Certificate.
This accreditation was successfully achieved after a rigorous audit which reviewed our systems as a whole and focused heavily on Safety, Health, Environment and Quality (SHEQ) compliance. The audit found that both Vital Energi, and our supply chain work to extremely high standards and we are delighted to retain this essential accreditation.
This accreditation is an essential requirement for working with many large clients and we will now continue to be eligible to work with major companies including utility providers, UK power networks and airports to name just a few.
James Gallacher, Quality Manager for Vital Energi commented, "This accreditation shows that not only Vital Energi, but also our supply chain, work to the highest standards of Safety, Health, Environment and Quality and gives a clear indication to clients of our commitment to these essential areas."
The Achilles B2 applies to contractors and suppliers who work on sites owned by utility companies, who employ 20 or more staff.
blog comments powered by

Disqus