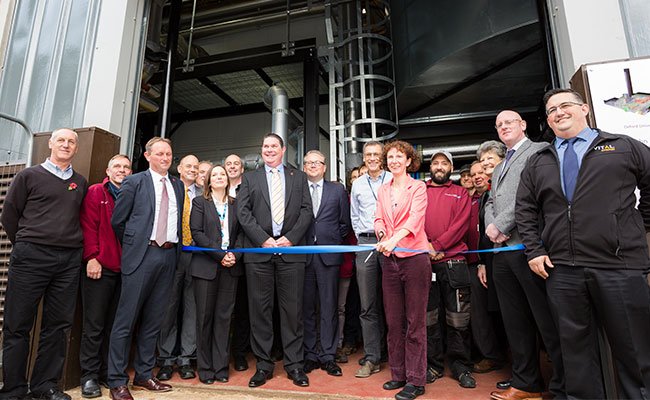 Official Opening of £14.8m Oxford Energy Project
The £14.8m Oxford University Hospitals NHS Foundation Trust Energy Project was officially opened on Friday 10th November by Oxford East MP, Anneliese Dodds. OUH Chairman, Dame Fiona Caldicott, CEO, Dr Bruno Holthof and Vital Energi's Ashley Malin were also in attendance.
It was also the day that the Trust received its first month's figures on energy usage at the John Radcliffe and Churchill Hospitals (excluding the PFI estates) for the first full month's operation of the new CHP and Energy Link.
In October 2016, OUH's energy bill for the JR & Churchill (excluding the PFI estates) was £484,175.03.
In October 2017, the same bill was £252,832.27.
An energy spend reduction of £231,343.03 in the first month's full service of the CHP. It equates to a saving of £7,462 every day at these two hospitals (excluding the PFI estates).
The Hospital Energy Project has included removing the 30 and 40-year-old boilers in the Churchill and John Radcliffe Hospitals and replacing them with a Combined Heat and Power (CHP) engine, new combi boilers, associated upgrades and the replacement of 6,407 light fittings.
The two hospitals, which now share the energy centre at John Radcliffe Hospital, are connected via a 2.2km energy link which includes High Voltage cabling, district heating pipework and communications cabling.
This new energy and heating infrastructure will cut the Trust's CO₂ output by 10,000 tonnes per year (the equivalent of 4,000 homes' CO₂ emissions) and guarantees to save the Trust £461,746 (net) a year on its energy bills for 25 years.
Dr Holthof said: "Today marks the culmination of 2 ½ years of work to remove our 30-year old boilers at the JR and Churchill and replace them with innovative engineering that gives the Trust the infrastructure we need today and into the future."
He also thanked local residents saying: "The Energy Link work through Headington caused disruption and the Trust is very grateful to residents for their support throughout the Project."
Ashley Malin for Vital Energi concluded: "In addition to the significant financial savings, this Project also delivers significant benefits to the local community in lower CO₂ emissions and the Trust will certainly benefit for long-term future proofing of their energy and heat infrastructure.
"Vital Energi would also like to thank the many residents and Councillors who gave us such support at our monthly liaison meetings – your involvement and local knowledge were very valuable, and you were enormously helpful. At the end of the Energy Link, the District Heating team received some very complimentary calls and emails from residents, which we really appreciated."
Claire Hennessy, Head of OUH Operational Estates and Facilities Mangement, said: "This is a new era of sustainable energy provision for the Trust. For the first time in decades, we are going into the winter with reliable heat and power, while also cutting our CO₂ emissions and saving on our energy bills and backlog maintenance."
Claire added: "The Trust was recently awarded "2017 Sustainability Project of the Year" at the prestigious IHEEM Awards (Institute of Healthcare Engineering & Estate Management) for this Project. The awards are peer group judged and hotly contested, so we were very pleased to receive this recognition for our vision and results so far."
Mark Bristow, OUH Lead Project Manager for the Hospital Energy Project, said: "It is a testament to the skill and commitment of everyone involved in this Project that several thousands of tonnes of equipment were decommissioned, dismantled and removed while, concurrently, complex new systems were installed and commissioned without interrupting any patient care at either hospital."
blog comments powered by

Disqus