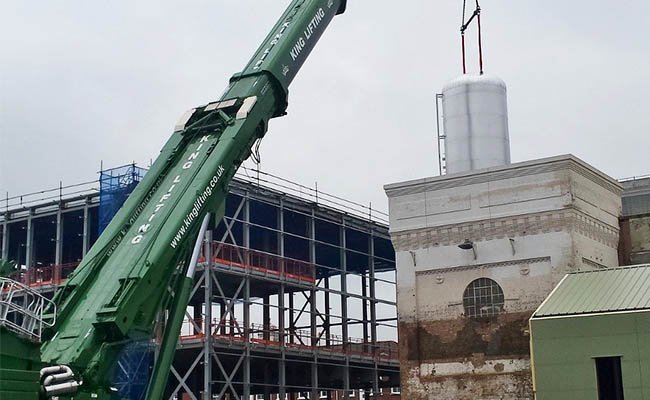 Powerhouse Set to Bring Low Carbon Heat to the Old Vinyl Factory
A state-of-the-art low carbon energy centre is gearing up to supply U+I's £250 million Old Vinyl Factory development. Vital Energi's 4.09MW energy centre will provide both low carbon heat and hot water for all new buildings at The Old Vinyl Factory site, including the University Technical College, Record Store, Boiler House and Material Store.
The 50,000 litre thermal store has been recently installed into the Powerhouse's Water Tower, a key heritage feature located in an extension of the original Powerhouse building, which will also house a music venue, café and bar. Once completed, the redevelopment scheme will consist of over 640 homes, 690,000 square metres of office space, plus a museum, cinema, creative workspaces and new retail outlets.
Acquired in 2011, The Old Vinyl Factory in Hayes is where vinyl was born, housing 20,000 EMI and HMV employees at its peak with the original art deco factory buildings designed by Wallis, Gilbert & Partners. It is hoped that the regeneration brings people flocking to the area once more.
Commenting, Rob Callaghan of Vital Energi said: "We are delighted to be continuing our ongoing relationship with U+I delivering a legacy project by creating a new heat energy centre within the old Power House."
Richard Upton, Deputy Chief Executive of U+I commented: "Our aim is to marry the incredible architectural, cultural and industrial heritage of the The Old Vinyl Factory, with technological innovations and sustainable solutions to bring it into the 21st century. Working with Vital Energi to develop an efficient source of power for the site not only builds on that, but also provides a cost effective energy alternative for our residents and tenants."
blog comments powered by

Disqus