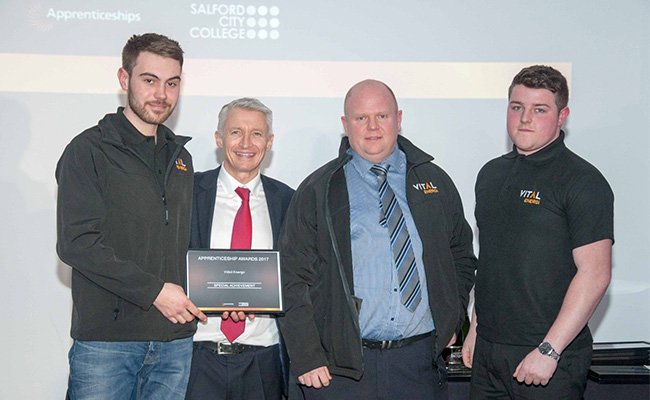 Salford College Celebrates Vital Energi's Commitment to Apprenticeships
Vital Energi are delighted to have been honoured by Salford City College in recognition of their support for Apprenticeships and collected their "Special Achievement Award" at a ceremony held at @MediaCityUK during National Apprenticeship Week.
The College's assessors chose Vital Energi due to "the support and opportunities that they provide and their commitment to the Apprenticeship programme" and Prefabrication & Installation Manager, Lee Brindle attended the ceremony to collect the award, which was presented by John Spindler, Chief Executive Officer and Principal of Salford City College.
Vital Energi currently have a number of apprentices studying at Salford City College, all of whom are taking an apprenticeship in Heating, Ventilation and Metal Arc Welding.
Ella Stokes, Vital Energi's Group HR Manager explains, "Many of the people at Vital Energi, from new starters to senior managers, began their careers as apprentices, so we have no doubts about the benefits an apprenticeship can have on a person's career and the positive impact apprentices have on a company.
"Our focus has always been on finding talent and enthusiasm and then giving it the support and opportunity it needs to thrive, so we're delighted to receive this awards from Salford City College for the work we've done with our apprentices."
blog comments powered by

Disqus