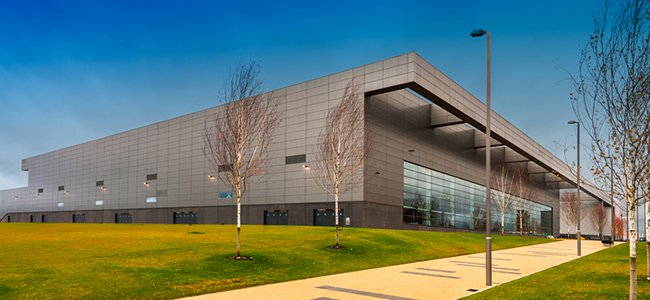 Energy Minister Launches Heating Plan at 2014 Commonwealth Games
Scotland's Energy Minister, Fergus Ewing, launched the Scottish Government's District Heating Action Plan in May while visiting the CHP energy centre at the new Athletes' Village for Glasgow's 2014 Commonwealth Games.
The Athletes' Village includes a new district heating network designed and built by Vital Energi on behalf of developers City Legacy Consortium which includes CCG, Cruden, Mactaggart & Mickel and WH Malcolm. The £10 million system is the largest district heating network ever installed for a new build development and is nearly double the size of the network installed at the Olympic Village in London.
It was installed, commissioned, tested and operational a year in advance of the games and will provide heat and hot water to the Emirates Arena and Sir Chris Hoy Velodrome, the 704-home Athletes' Village, a 120 bed care home and to an additional 750 new homes that will be built after the Commonwealth Games finish as part of the Legacy phase of this significant construction project.
The Scottish Government's District Heating Action Plan sets a clear roadmap for how it will support the growth of district heating networks throughout Scotland to help reduce energy bills and carbon emissions.
The plan was devised by an expert commission which included Howard Roche of Vital Energi. It proposes the creation of a Heat Network Partnership that will help to develop a project investment pipeline to secure support from the Green Investment Bank Renewable Energy Investment Fund, and to identify funding opportunities from European and UK funding sources, such as the European Regional Development Fund.
It also includes a Call for Evidence on the investment needed in heat networks over the next few years. In particular, to address the barriers to creating large-scale integrated heat networks.
Fergus Ewing said: "District heating is an important means of achieving both carbon emission and fuel poverty targets as well as contributing to the development of a low-carbon economy and local economic regeneration.
"Working with our partners, district heating will help to deliver our overall vision of a largely decarbonised heat sector by 2050, with significant progress by 2030. The switch to district heating is already helping take thousands of households in places like Glasgow and Aberdeen out of fuel poverty.
"We are already seeing the benefits at the Commonwealth Games Athletes' Village where a £10 million district heating and energy system will provide heating and hot water through underground pipes."
Ian Whitelock, joint managing director of Vital Energi, commented: "We are delighted the Scottish Government chose the 2014 Commonwealth Games Athletes' Village for the launch of its District Heating Action Plan.
"We are very proud of our work on this scheme which has recently been named Best Green Initiative at the Homes for Scotland Awards. This success is largely attributed to our district heating system which will reduce carbon emissions by 35 per cent and is expected to result in energy bills around 40 per cent lower than any other power methods.
"The Scottish Government's new District Heating Action Plan shows its commitment to implementing district heating to major urban areas and we welcome the opportunity to help it achieve its goal."
Calum Murray, director of CCG and City Legacy, commented: "The Village is the largest regeneration project of its kind in the UK and is at the leading edge of innovation in construction. This heating and power system is a great example of this. This approach results in huge environmental benefits and cost savings, not just for Games time but also for the thousands of residents who will live in the Village afterwards."
blog comments powered by

Disqus