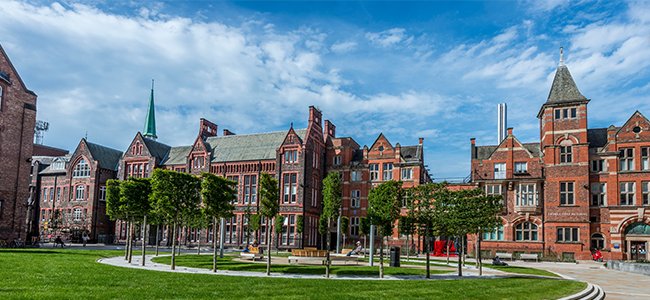 Turning up the Heat at The University Of Liverpool
Vital Energi is helping the University of Liverpool boost the heat and power on its campus while breathing new life into an historic building.
The sustainable energy specialist is designing the installation of two new Combined Heat and Power (CHP) engines into a Grade ll listed building that was previously the old Royal Infirmary boiler house.
An impressive example of Victorian architecture, the 19th century red brick boiler house forms part of the original Infirmary complex and was designed by Sir Alfred Waterhouse. In 1978 the infirmary closed and was empty until it was bought by the University of Liverpool in 1994.
This project is a key element in the University's strategy to improve its energy efficiency and reduce carbon emissions. It will add a further 4MW of electricity to the existing 3.5MWe plant that is already housed in the University's existing energy centre in Ashton Street. Work began in June 2013 and will be finished by June 2014.
Vital Energi is working alongside the University's architects, and within tight design constraints, to ensure all the original features of the boiler house are preserved during the restoration and conversion of this Victorian-era building into a contemporary energy centre and that noise levels are kept to a minimum.
It is also collaborating with the University's design team to complete major structural alterations and adaptations of the existing building to create three floors to accommodate the pumping and electrical units, the two CHP engines and the heat recovery system. All plant and equipment is being carefully selected to ensure it fits into the limited space available and the roof of the boiler house is being partially removed to allow ventilation equipment to be installed.
This is the latest in a long line of improvements to the University's energy infrastructure that have been carried out by Vital Energi in the last six years. In that time, Vital Energi has installed the University's main district heating system, laying a total of 1900 metres of superior pre-insulated district heating pipe.
In February Vital Energi signed a new £4 million contract to carry out additional district heating installations across the University of Liverpool's campus for a further five years.
Ian Whitelock, joint managing director of Vital Energi, commented: "This project is giving a traditional old boiler house a new lease of life and installing innovative new sustainable energy within its walls.
"Converting a listed building into an energy centre is challenging but we have extensive experience of retrofitting sustainable energy solutions into existing buildings and have the capability to handle this type of project in-house. We welcome the opportunity to continue to help the University of Liverpool transform its energy infrastructure."
Ian Murray, Consultant Project Manager for the University of Liverpool, commented: "Vital Energi was awarded this contract because its proposal achieved the highest score during the OJEU tender process in terms of its quality and overall financial offering including both capital and whole of life costs."
blog comments powered by

Disqus