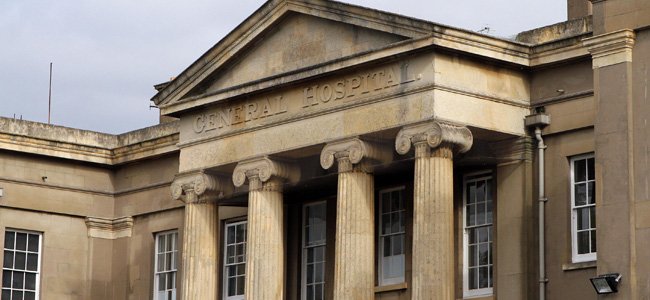 Cheltenham Hospital Achieve £10.4m
Vital Energi has developed a reputation for partnering with NHS Trusts to help them save money, reduce CO₂ emissions and deliver sustainable energy solutions. Cheltenham General is the latest hospital to benefit from Vital Energi's expertise and experience with the implementation of a number of innovative energy projects across the hospital estate.
The £3.1 million project will achieve guaranteed savings of £577,000 per annum which represents a 40% reduction on their current energy bills and operating costs, and also reduces carbon emissions by 1,789 tonnes per annum which equates to a 30% reduction. Both the energy and carbon savings will be guaranteed by Vital Energi under an 18 year energy performance contract.
The project is being partially funded by a £960,000 grant from the Department of Health with the remainder of capital provided by Vital Energi which will be repaid over the contract term. This approach allows the Trust to achieve the savings without using any of its own capital and therefore it can make the savings from year one.
Vital has taken a strategic approach to the project; initially focusing on developing self-funding energy reduction initiatives across the whole estate, which includes major upgrades to the Building Management System (BMS), lighting scheme and the design and installation of a site wide automatic meter reading system. Other works on the site include the installation of a buried district heating network for the distribution of hot water around the site.
While the financial savings generated are vitally important, as they will be spent on patient care, they are only half the story. Reducing carbon emissions is high on all Trust's agendas and Gloucestershire Hospitals NHS Foundation Trust, managers of Cheltenham General Hospital have a long standing commitment to reducing their environmental impact and count reducing CO₂ emissions among their strategic objectives.
Ted Rogers, Associate Director Capital and Development at Gloucestershire Hospitals NHS Foundation Trust commented, "Providing the best patient care possible is something we are strongly committed to, so reducing energy costs and investing those savings into front line clinical services is hugely important for us.
"This energy scheme will allow the hospital to reduce energy usage, lower carbon emissions and create a more resilient energy and heating infrastructure and those benefits will be felt for the next 18 years."
The project was procured through the Carbon and Energy Fund which required the project to move quickly to meet the Trust's scheduled deadlines. Vital Energi has repeatedly proven that they are structured to meet these challenging timescales and in this instance, progressed from invitation to tender to contract signing in under 6 months, which then led to a 27 week construction programme. This meant the whole process, from initial tender to project completion, will take less than 12 months.
Ian Whitelock, Joint Managing Director of Vital Energi commented, "At Vital we recognise that installing equipment such as CHP and biomass is only one element of reducing energy costs and carbon emissions in the NHS. Using less energy more efficiently is crucial and should be the initial step in developing a complete solution, and at Gloucestershire Hospitals NHS Foundation Trust we have done just that.
"We have formed a close partnership with the Trust which will deliver a sustainable energy solution, including comprehensive energy efficiency measures and demand reduction strategies. This solution will continue to deliver benefits to the Trust for the next 18 years making it another important addition to the UK's sustainable energy infrastructure."
blog comments powered by

Disqus