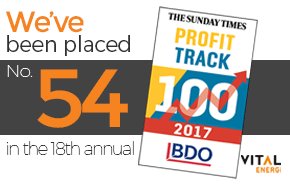 Increase in Profit Places Vital Energi on Sunday Times BDO Profit Track 100
Vital Energi are delighted to announce that they have been listed on the 18th annual Sunday Times BDO Profit Track 100 league table which ranks Britain's private companies with the fastest-growing profits over the last three years.
Vital Energi placed at number 54 in the list after posting 76% annual profit growth over 3 years. This saw the sustainable energy company become one of only 13 organisations in the northwest of England to feature on the table, which is compiled by Fast Track and will be published by The Sunday Times on April 2nd.
Joint Managing Director, Gary Fielding commented, "When we founded Vital Energi we placed strong emphasis on the quality of our work and our customer service in the belief that long-term relationships and an outstanding reputation would be fundamental to our success. We're pleased this approach has not only allowed us to retain our early clients, but also attract new clients who can see our track record.
"We're delighted to, once again, post strong growth figures and I would like to thank the many people in the Vital family who have contributed to our continued success."
Ed Dwan, partner in the northwest at BDO, the title sponsor of the league table, commented, "High-growth, mid-sized businesses played a leading role in the UK economic recovery after the global financial crisis. With Brexit and more uncertainty looming, it is companies like these with their natural energy, ambition and entrepreneurial spirit that will help the UK economy thrive. By supporting their growth, government would also be helping to achieve a more regionally balanced economy that 'works for all."
blog comments powered by

Disqus