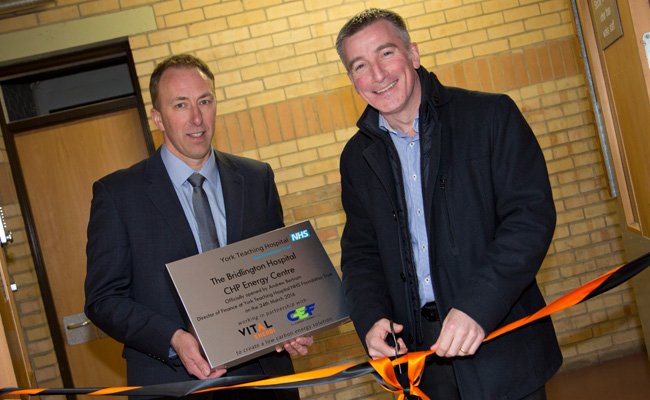 Vital Energi Powers Bridlington Hospital
York Teaching Hospital NHS Foundation Trust have chosen NHS Sustainability day as the ideal day for the official opening of their refurbished energy centre at Bridlington Hospital.
The £1.24M project has been designed and installed by Vital Energi as an energy performance contract, which guarantees over £2.2m of energy savings and over 10,000 of CO2 reduction during the 15-year agreement.
Vital Energi have previously worked in partnership with York Teaching Hospital NHS Foundation Trust to lower their CO2 emissions and have successfully delivered energy solutions at The York Hospital and are currently delivering another scheme at Scarborough Hospital.
Mike Hooper, Director Energy and Asset Management for Vital Energi explained, "We are delighted to continue our relationship with York Teaching Hospital NHS Foundation Trust as they expand their demand reduction and energy generation strategy to their other hospitals to achieve significant carbon and financial savings as a Trust.
"We have worked in partnership to deliver guaranteed financial and carbon savings, making it another great example of the savings which can be typically made in the healthcare sector."
The upgrade at Bridlington includes improved boiler control and the installation of a combined heat and power (CHP) unit which will make a significant contribution to reducing carbon emissions as well as significant savings to the hospital's energy costs. The unit will supply all of the hospital's night time electricity, over 50% of its day time electricity and make a substantial contribution to the heating and hot water supply.
The energy centre was officially opened by the Trust's Finance Director Andrew Bertram. Andrew was joined by Brian Golding, Director of Estates and Facilities, members of the Bridlington Hospital Estates team and representatives from Vital Energi.
Andrew Bertram said: "On behalf of the Trust I am delighted to officially open the refurbished energy centre at Bridlington Hospital. By reducing energy costs, we can reinvest savings into front line services and patient care."
Brian Golding, Director of Estates and Facilities, continued: "As an organisation, we are very much aware of sustainability issues and are committed to reducing our environmental impact. Our sustainable development group ensures that we are consistently addressing energy consumption across all our hospitals, looking at everything from light bulbs through to the design of new buildings.
"In 2014 we completed a major energy saving and carbon reduction project at York Hospital using a Carbon and Energy Fund Framework with Vital Energi. Since the completion of this project, we have seen a huge reduction in our energy consumption.
"We have now extended the successful strategy to Bridlington Hospital and a similar project at Scarborough Hospital is scheduled for completion in the summer."
The principal component of the new installation at Bridlington Hospital is a new combined heat and power unit. Carbon emissions are projected to be cut by 676 tonnes a year, a reduction of around 30 per cent.
blog comments powered by

Disqus