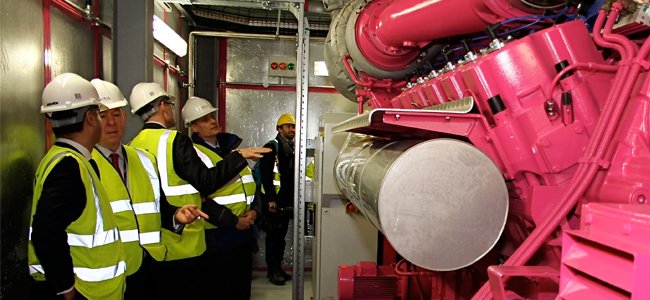 Vital Powers Largest Central London Development in 150 Years
The City of London took a large step towards energy sustainability on Thursday 27th February, 2014 with the launch of the King's Cross Combined Heat and Power (CHP) Energy Centre, designed and built by Blackburn and London-based sustainable energy experts Vital Energi.
King's Cross is being developed by the King's Cross Central Limited Partnership which is made up of Argent King's Cross Ltd, London & Continental Railways Ltd and DHL Supply Chain. Metropolitan King's Cross Ltd is the energy services company (ESCo) and was charged with the task of delivering sustainable and affordable power and heating to the entire development.
The energy centre will provide sustainable power for the new £2 billion, 67 acre King's Cross development in central London, which will create eight million square feet of office space, shops, a university and up to 2,000 homes and serviced apartments. The project will also see the creation of 20 new streets and 10 new major public buildings. It has already delivered the creation of the largest new street in London for over a century and the largest public square since Trafalgar Square.
The development is so large that it even has its own postcode – N1C.
Vital Energi won the contract to design and install the pioneering Combined Heat & Power (CHP) Energy Centre, and completed Phase 2 in January 2014. The energy centre will provide 100% of the heat and hot water and 80% of the electricity for the entire development. In addition to the £9 million contract they will also operate and maintain it for the next decade.
The King's Cross Combined Heat and Power (CHP) Energy Centre was launched by Councillor Phil Jones of Camden Council who commented, "This energy centre is really fascinating. All these bright colours they've painted in here for the Pink panther, the machine that's operating here. You really get a sense of how much work has gone in and the level of engineering sophistication and technological sophistication that's involved in this type of plant. So it's very impressive.
"It was a very exciting moment, almost a historic moment to press that button today, so it was a great honour for me."
Ian Whitelock, Joint Managing Director of Vital Energi explained, "We're committed to making sustainable energy an easy and economical option. More and more we're seeing forward-thinking councils working hand in hand with conscientious developers and businesses to create developments which have sustainability at their heart.
"How we create and consume energy is one of the most important issues facing society at the moment, so to play a part in reducing carbon emissions by 50 per cent on a project of this size has been a great opportunity and something, as a company, we're immensely proud of. Hopefully, this project can stand as an example to other councils and developers of what can be achieved on 21st century developments."
blog comments powered by

Disqus