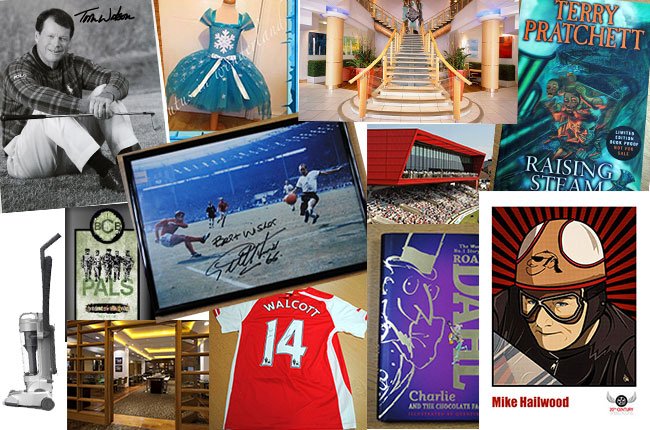 Vital Energi Raise £1568 for the Christie
A World Cup Winner, US Golf Major winner and two world famous artists were just some of the people who joined other celebrities and businesses to support the first ever Vital Energi Christmas Auction in aid of The Christie charity.
Sir Geoff Hurst, Tom Watson and Sir Quentin Blake, Terry Pratchett, Manchester United, Liverpool and Arsenal Football Clubs all donated items, ensuring that Vital Energi staff had lots of exciting potential Christmas presents to bid on. All items were put on the company's internal website and raised an overall total of £1,568.
Ian Whitelock, joint Managing Director of Vital Energi commented, "The Christie is a fantastic charity and the work they do is inspirational. It was, therefore, no surprise that so many people showed their generosity by donating to the Christmas Auction. We are delighted to have been able to support this great charity which helps so many people and look forward to seeing what fantastic items we get for next year's auction."
100% of the funds raised will be donated to the Young Oncology Unit at The Christie. The young oncology unit provides care for teenagers and young adults, up to 24 years of age, with cancer and related illnesses.
If you'd like to know more about The Christie and the work they do, please click here: http://www.christie.nhs.uk/the-christie-charity.aspx
Mary McLaughlin, Corporate Fundraising Officer at The Christie said, "Vital Energi has shown fantastic support to The Christie this year and has sourced a wonderful selection of prizes for its charity auction. The money raised through this event will go towards our Teenage and Young Adult Unit where it will support the funding of vital research into new treatments and the causes of cancer in children and young adults, as well as enabling us to provide the very best facilities, equipment and support for our patients. We would like to thank everyone at Vital Energi for their hard work in organising the auction, and all those who have so generously donated prizes and money. Your support is much appreciated by everyone at The Christie."
We would like to say a big thank you to all our staff who bid so generously on the auction. We would also like to thank all the wonderful people and organisations who supported us by donating items. Below is a full list of those who supported us this year:
Big Clock Brewery
Manchester United Football Club
Napthens Solicitors
Tom Watson
The Pestana Chelsea Bridge Hotel
Colin Smythe Publishing
UKOS
20th Century Speed Icons
Tutus In Wonderland
Liverpool Football Club
Lancashire County Cricket Club Foundation
Key Sports Management
Floorbrite Cleaning Company
Bolton Whites Hotel
Sir Geoff Hurst
Ralph Steadman
Sir Quentin Blake
BSS
Grundfos
Flamco
Crane
Viessmann
blog comments powered by

Disqus