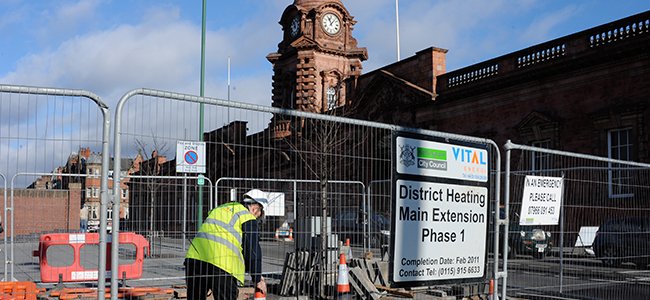 Vital Energi Keep Nottingham's Heat And Hot Water Flowing
Vital Energi's long-term relationship with Nottingham City Council has been boosted by the recent announcement that it has been appointed as an approved contractor for a new four year district heating mains framework agreement.
The award has been made by Nottingham City Council Highways, on behalf of Enviroenergy, the council-owned energy services company (ESCo) that manages Nottingham's city-wide district heating scheme - one of the largest in the country.
Under the new framework Vital Energi has already been appointed to upgrade and divert existing primary district heating mains in the central Canal Street and Trinity Square areas of Nottingham. These two complex projects will be carried out in 2013 and will require night working and careful traffic management to minimise disruption to the public.
Vital Energi is one of Nottingham City Council's preferred partners for district heating and has worked in partnership with Enviroenergy to install some major district heat networks within the city. Its senior management team has been installing district heating pipe in and around the city for more than 20 years. Key projects have included the installation of the largest district heating network performed under a single contract to connect 4,700 homes on Nottingham's St Ann's Estate.
Overall Vital Energi has installed an estimated 85km of pre-insulated district heating pipe to connect the city's homes and businesses to its innovative Eastcroft energy from waste facility.
During 2010 to 2011, Vital Energi installed a £1.85m, 1.1km district heating extension in the east of the city and a £1.75m, 1.2km extension of an existing waste-to-energy district heating network to Nottingham's one million square foot Southside business district.
The company is also currently assisting Nottingham City Council with a feasibility study for district heating as part of a new Department of Energy and Climate Change (DECC) initiative. DECC has committed £1m to support the five of the largest cities in England (Manchester, Leeds, Newcastle, Sheffield and Nottingham) to develop their plans for installing heat networks.
As part of this initiative, Vital Energi has been appointed as a member of the SKM Enviros team to carry out a feasibility study for district heating installation in two key districts of Nottingham.
Ian Whitelock, joint managing director of Vital Energi, commented: "We have a longstanding and successful relationship with Enviroenergy and Nottingham City Council and have worked across the city installing district heating pipework to keep the heating and hot water flowing for homes and businesses.
"Over the years we have overcome some significant civil engineering challenges while working in the city, not least the construction of a special bridge to allow our district heating pipe to cross the city's canal. We welcome the opportunity to continue our work improving and expanding Nottingham's district heating network," he added.
blog comments powered by

Disqus