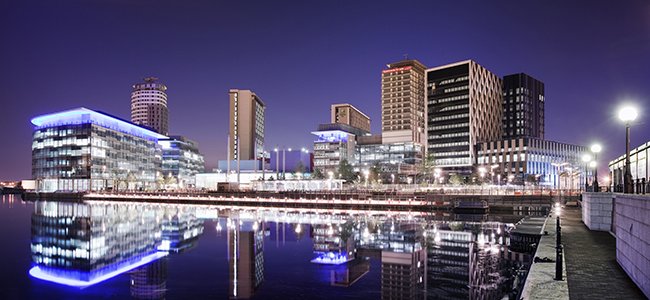 Vital Energi Wins Major New Contract for MediaCityUK
Vital Energi has been awarded the operation and maintenance contract for the revolutionary tri-generation energy scheme and canal cooling system at MediaCityUK - the first development in the world to become a BREEAM approved sustainable community
Completed in 2010, the £650 million project was developed by The Peel Group and is the new home for the BBC, ITV, Coronation Street and the University of Salford. It was officially opened in 2012 by Her Majesty The Queen during her Jubilee Year.
Vital Energi was originally contracted to deliver the tri-generation scheme based on combined heat and power (CHP) technology to provide electrical power, heating and cooling and help MediaCityUK achieve the highest global environmental saving rating. The energy centre currently houses two 9MW gas boilers, a 2MW CHP engine and a 1.5MW absorption chiller which will provide cooling to the BBC film studios.
Taking advantage of MediaCityUK's waterside location, Vital Energi's design engineers also implemented a novel on-site canal cooling system which extracts recyclable canal water to cool the BBC studio buildings in the winter months and provide cooling for the absorption chillers and the CHP unit during the summer.
Vital Energi's operation and maintenance team will manage both the tri-generation energy centre and unique canal cooling system for an initial three year contract. In addition the team has been contracted to carry out weekly L8 Testing of all the empty apartments at MediaCityUK. L8 Testing is a part of the ACoP (Approved Code of Practice) for the workplace to eliminate or detect the presence of legionellae bacterium.
Ian Whitelock, Vital Energi's joint managing director, commented: "Our engineers are technically the best in the country and provide the highest levels of customer service while ensuring optimum performance of the plant and equipment in their care."
"Vital Energi's operations and maintenance department has built a strong reputation in the market for providing a high quality service and for surpassing its energy savings and CO2 emissions targets for clients."
Vital Energi's in-house team of O&M engineers are on hand 24 hours a day, 365 days a year providing complete maintenance services to MediaCityUK residents and tenants.
blog comments powered by

Disqus