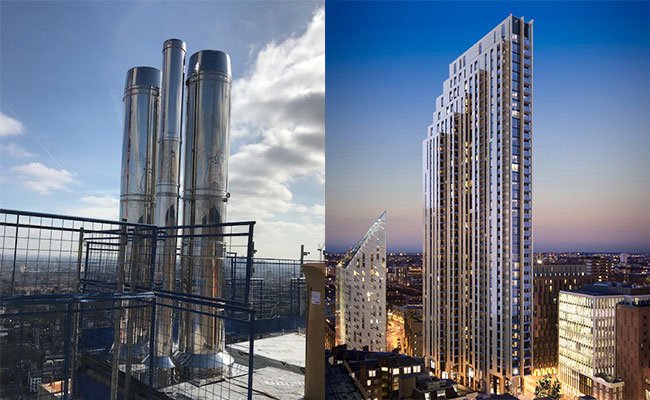 Vital First at Emerging Luxury Development
Work has been progressing on the energy scheme at 145 City Road, formally known as The Atlas Building, with Vital Energi using innovative technology to overcome unique project challenges.
The project has seen the installation of a hinged flue system, which is the first time that Vital have used this type of equipment on their projects. Ensuring smooth operation of the recently installed boilers and CHP engine, this specially designed flue was ideal for the project due to the restricted spatial requirements and height of the building. Benefitting from the ability to allow the Building Maintenance Unit to swing and rotate 360 degrees without obstruction, the hinged flue system will allow for undisrupted heat and hot water supply to the building.
Project Director, David O'Neill, from Vital commented, "With this being the first time we have used a hinged flue system, we are extremely pleased with the outcome and the quality of the installation. The flue will further benefit from mesh covering added to each section when flipped back to prevent debris and foreign products from entering the system and locking out the energy centre's equipment. The project is taking great strides and we look forward to finalising the energy solution for such a prestigious development."
The Atlas Building resides within the £1bn City Road Basin development, and at 152m tall, it is set to be the tallest residential building within London's Tech City. Vital were awarded the £6.7m contract by Mace early last year to provide the main energy centre consisting of a 158kWe CHP engine, and a 2.8MW modular gas boiler. Due to the height of the building, a second chilled plant room on the 19th floor will be constructed to ensure that each dwelling receives a suitable water pressure.
Upon completion, the development will see the construction of 300 one, two and three bedroom luxury apartments over 38 storeys, with additional amenities including a private cinema room, pool and gym. The energy solution will serve all the apartments along with the 9 storeys of office space.
The project is set to be completed by the end of 2018, and when finished will provide high quality living, working, and leisure spaces in the up-and-coming Shoreditch area of London.
blog comments powered by

Disqus