Construction
Creating Robust, Deliverable Programmes to Meet Key Milestones & Heat On Dates
In addition to having substantial in-house resources, we have developed our supply chain and we are capable of progressing from contract signing, through to procurement, design and into the construction phase in less 3 months.
Whilst every project is unique and more architecturally complex projects can take longer, the energy centre we delivered for the Leeds PIPES project is a good example of how a programme can be accelerated. The energy centre was completed in less than 7 months, with the groundworks taking just over 4 weeks, the steelwork being completed in 3 weeks and the roof and walls envelope taking just 5 weeks.
Specialist Capabilities
We can assess and, if necessary, restore the structural integrity of the building, create temporary access points for large pieces of equipment, or completely reconfigure a structure. Just a few of the tasks we have undertaken include:
Asbestos identification and handling – All of our staff are trained in identifying asbestos and we work with specialist companies who can handle asbestos removal safely
Repairs to existing steelwork and installing additional steelwork to strengthen a structure
Creation of temporary access and egress points for delivery and removal of equipment
Heritage repairs such as tiling, brickwork repair and joinery on listed buildings
Each project presents its own challenges and we now have over 10 years of experience in constructing energy centres. The University of Liverpool energy centre, had to be retrofitted into the existing Grade II listed mortuary. This saw us partner with heritage restoration experts to repair and replace windows remove, renovate and replace the roof and fix the chimney back to the main building after it had begun to separate.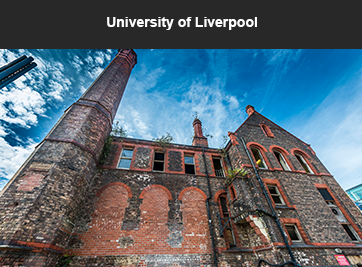 Delivering Safe & Timely Demolition in All Circumstances
Demolition can play an essential role in a construction project and part of our duties can involve demolition of existing buildings. This is often existing boiler houses or energy centres, but can extend to other types of constructions.
An example of this can be seen at Salford Royal NHS Foundation Trust where we demolished the existing incinerator building which had been used to dispose of clinical waste. The building was approximately 25 years old and had a footprint of 500sqm and would no longer be needed to the introduction of a new off-site clinical waste solution. Our team were able to deliver the demolition in seven weeks, with no disruption to the overall project.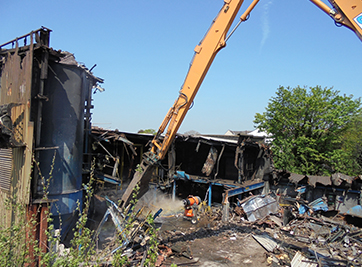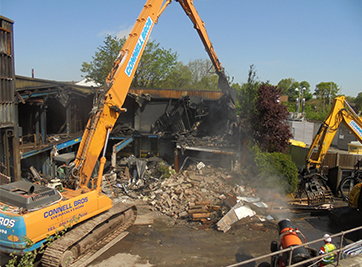 Salford Royal NHS Foundation Trust project in the demolition stages.
Sometimes a project calls for a more delicate demolition and at the Leeds PIPES project we built the new energy centre over the top of the existing boiler house. This will allow the boilers to operate until the switchover, at which point the old energy centre will be carefully demolished, leaving the larger, new energy centre. This will save the client significant costs as they will not need to rent and connect temporary boilers.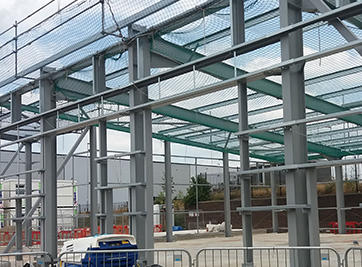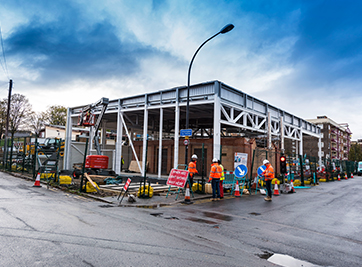 Leeds PIPES, Saxton Garden Energy Centre during construction.
Construction Phase
All construction is overseen by one of our experienced project managers who ensure that we, and our supply chain integrate seamlessly and fit into the larger construction programme… Something which is essential as the energy centre may be one of several projects being delivered on a site and a delay would affect other areas of the build out.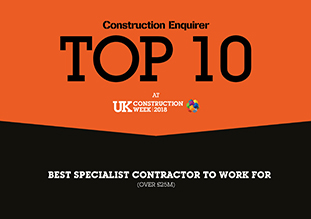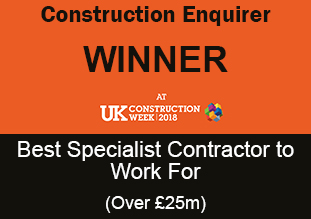 Health & Safety is of paramount importance to us and we develop and implement plans and procedures which ensure all staff and subcontractors are fully aware of their responsibilities. Alternatively, we have shown that we can adopt a client's specific requirements and processes. All our sites undergo regular H&S inspections and we perform regular reviews with the client at each stage of the construction process to ensure they are happy with our overall performance.
Soft Landings & Handover
The handover of a project is often overlooked and we receive positive feedback from consultants and clients regarding our handover process. We ensure that easily understandable and comprehensive O&M documentation is produced which allows building operators/owners to fully understand how to operate and maintain the energy centre.
Whilst we often take asset management responsibilities as part of our contract, in some instances the client wishes to do this in-house. We will liaise with the client's team to ensure they fully understand the building management systems and have the information they need to ensure the building operates as efficiently as possible and comfort levels are optimised. This support is essential as we want to ensure that the energy centre is operated to the same standard with which it was designed, constructed and fitted out.