Joint Systems & Band Joints
Naturally clients want, and expect, a secure, safe and efficient system, and joints are essential component of any network of pre-insulated pipe. In theory they are the weakest link which is why we only specify joints that are robust, reliable and comply with the requirements in EN 489, making them compliant with building regulations.
Over the last 20 years, experience has shown that anything less and system failure is almost inevitable. As a result we have, within our designs, minimized the total number of joints that we specify, largely through the careful selection of the pipe work they are used to connect. This means we can provide the highest quality joint and the highest possible level of system security.
The main joints we recommend are:
The Band Joint
An exceptionally secure fusion welded jointing solution for pre-insulated pipes. It was first installed in the UK in 1988 on the Sheffield District heating scheme and remains our clients' preferred choice today.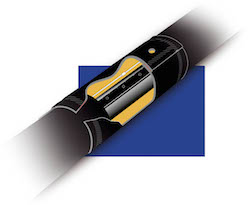 | | |
| --- | --- |
| Material | Dimension |
| HDPE | 90mm to 1200mm |
The Band Joint is the most secure fusion welded jointing system currently available for pre-insulated pipes. The joint is given extra strength as the Band Muff and the outer casing are welded together using embedded copper wires, to form one unbreakable joint.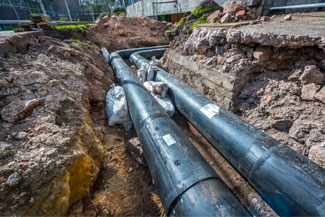 A completed Band Muff Fusion Weld Joint at the University of Liverpool
Additionally, computer-controlled welding equipment has been developed to reduce the installation time to a minimum, and is carried out by our own fully trained fitters.
Other Features:
Open Joint
Clean installation does not require pre-installing
Complete straight and branch solutions
Pressure testable
Fully bonded system
Computer-controlled welding process
Can be used for repairs to existing systems without the loss of service
Long history with underground joints installed 20 years ago still in operation
Documented welding process
Suitable for all ground conditions
This type of fitting is particularly popular with most clients because of its excellent, long term reliability. This also means less operation and maintenance costs, which is especially relevant to customers looking at the whole life costing of a system.
The Steel Fitting System
A complete and well-proven jointing system for pre-insulated pipes, with over 30 years successful underground installation.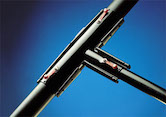 | | |
| --- | --- |
| Material | Dimension |
| Steel/Polyethylene coated | 77mm to 315mm |
The unique technical and economical characteristics of the steel fitting system reduces the number of joints required, which means fewer potential failures, improving life-cycle costs.
The steel fittings are delivered to site in two halves and when fitted over a sealing strip onto the pre-insulated pipe form a water tight seal.
This high quality fixing is an excellent option for customers who are more concerned about short term capital costs than the system's overall life-cycle.
Other Features:
Open Joint
A complete system for straights, bends and branches
Pressure testable
Fully bonded system
Diffusion tight
Long history/references been in the ground for over 30years!
Can be used in all common soil conditions