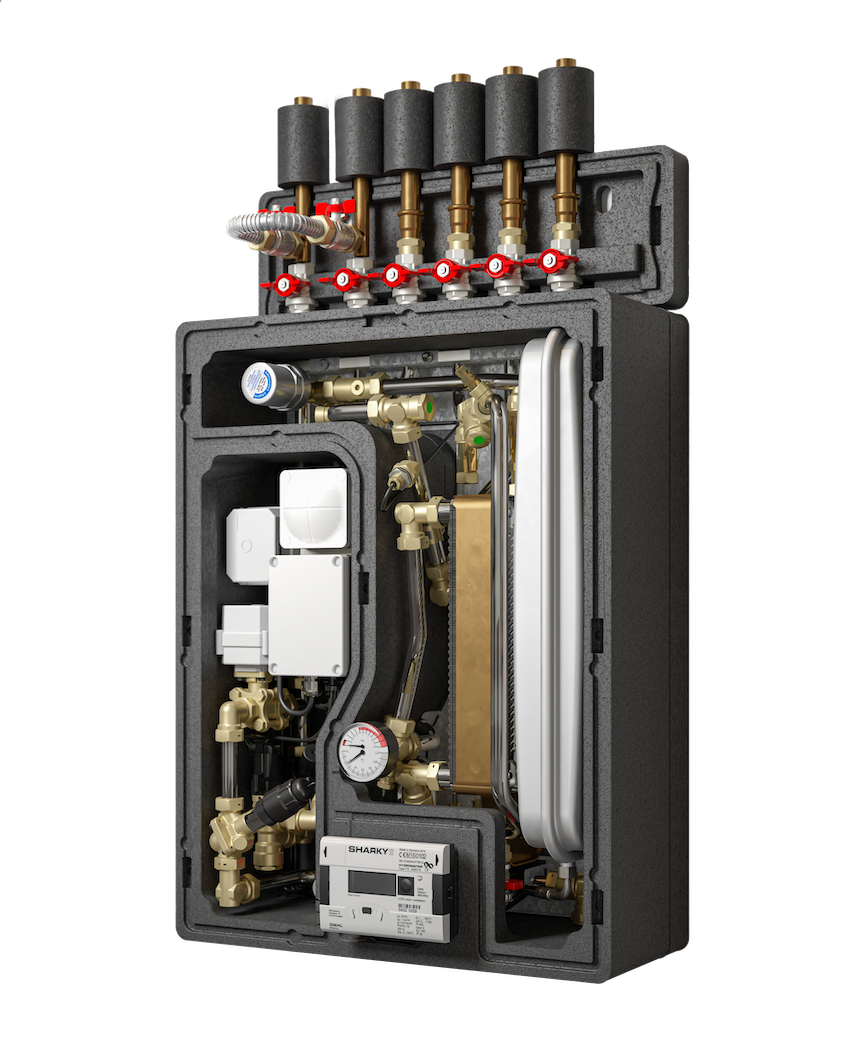 Optional Extras
vTherm°h has optional extras available.
First fix valve rail to allow installation of the pipework to be undertaken without the heat interface unit being on site, reducing the risk of damage
Fully insulated valve rail box to minimise losses and improve aesthetics
Pipe bracket option to allow connections from below the unit
Flushing bypass to allow primary pipework to be flushed externally to the unit
Images for the optional extras are available in the downloadable Product Overview booklet.
Request vTherm° Documents
Key Features
The new space saving vTherm°h (hybrid control) Heat Interface Unit (HIU) is designed to minimise heat losses and improve the efficiency of your district heating scheme
Domestic Hot Water (DHW) is controlled electronically and heating is thermostatically controlled ensuring the lowest possible return temperature
The product range is available in a variety of outputs providing instantaneous Domestic Hot Water (DHW) and Heating (HTG) serving radiators or Underfloor Heating (UFH) systems
Instantaneous hot water is produced via a plate heat exchanger and control valve with fast-acting actuator, supplying the desired temperature of hot water at the outlet without delay, even following periods with no hot water demand
Heating is also produced via a plate heat exchanger and controlled via a Pressure Independent Control Valve (PICV) with thermostatic actuator
The heat interface unit provides complete hydraulic separation between the primary circuit and the secondary DHW and HTG installations
Operation & Maintenance
The casing is built in 3 sections to streamline Commissioning, Operation & Maintenance
The has been designed as a wall mounted product with all connections upwards, however further options are available
Dimensions of standard

v

Therm

°

e unit: Height. 690mm x Width. 530mm x Depth. 250mm
Further operation & maintenance details are available in the downloadable Installation Guide.