District Heating & Cooling

Vital Energi has a brand dedicated to district heating and cooling networks know as Vital Energi Networks. Please visit the website by clicking here and view more details on our pre-insulated pipe products as well as the services we can provide.
Please read below to gain an overview of Vital Energi's district heating and cooling expertise.
District Heating & Cooling schemes are networks of pre-insulated pipes which distribute heat, hot water and cooling from a central source and are ideal for residential, commercial and public premises or mixed use developments, such as the Sheffield Community Heat Network, installed by Vital Energi, which supplies heat to over 2,800 homes and 140 public and private buildings. Vital Energi has been involved in installing these networks since projects like Nottingham in the 1980's.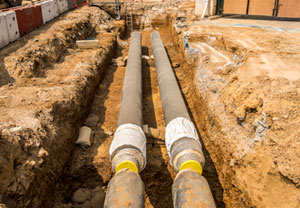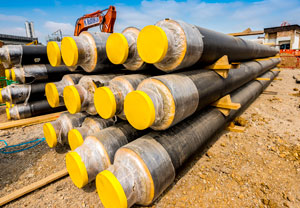 High Temperature Rockwool District Heating Pipe installed at Heathrow Airport
These networks are extremely flexible and can be installed below, or above ground and powered by a range of sustainable energy solutions, including Combined Heat and Power (CHP) plants and heat pumps. This flexibility enables Vital Energi to design bespoke solutions for a client's needs.
The Vital Energi workforce is the most experienced in the country when it comes to District Heating and Cooling systems, with many employees involved in installing the first networks over 25 years ago. That experience is shown in the fact that our catalogue of work represents a significant percentage of the UK's entire District Heating Networks.
We are proud of our District Heating product range, which includes the most accurate alarm system on the market, detecting leaks within 1m-3m on a 10km network. We also offer a 30 year warranty on some of our pipes, the longest of its type available.
Business Benefits
By harnessing the heat which is normally lost in energy generation and by using other sustainable technologies, it is possible to create affordable, sustainable and environmentally sound energy, but that is only half the process. How you distribute that energy can have huge financial implications on a business.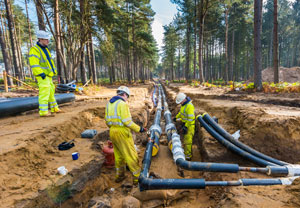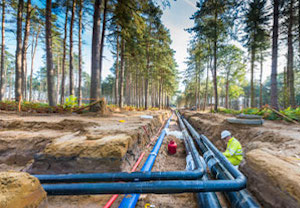 District heating pipe offers flexibility of design allowing installation in challenging landscapes, such as Woburn Forest Center Parcs (Right)
In short, the more energy lost in transport to the end user, the more money is wasted, so it is essential that any District Heating & Cooling Network works as efficiently as possible. Our systems use the highest design of insulated pipe and our trademarked Band Muff jointing system significantly increases the design of the installation from 30-50 years, while reducing the amount of heating and cooling lost.

Environmental Benefits
District Heating & Cooling Systems are a tried and tested technology. They have been in "in the ground" for over 25 years, meaning that there is a huge body of data showing their environmental benefits. Our 50km of District Heating in the City of Sheffield contributes to saving 21,000 tonnes of CO₂ every year, while our 85km Nottingham installation contributes to a CO₂ saving of 27,000 tonnes per year. To put that in perspective, these two networks have the same effect on CO₂ emissions as taking almost 10,000 cars off the road.
Our pipes come in a range of materials and sizes, but our confidence is such that we offer long-term warrantees on our products and installations. The choice of insulation can have a large financial impact on a project. The highest insulation level can reduce heat loss by up to 55% compared to standard insulation levels.