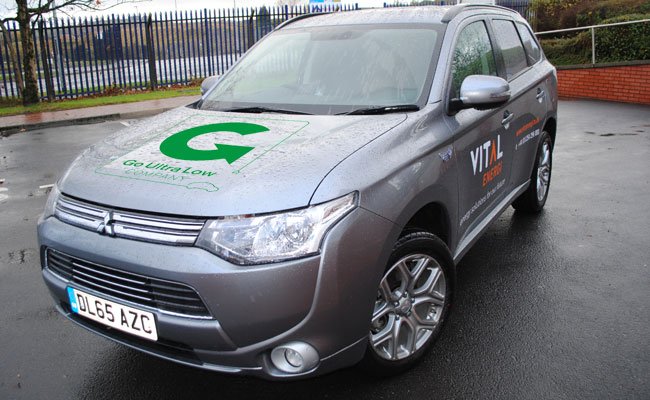 Driving Britain to a Cleaner Future
Vital Energi has become one of the first organisations in the country to be awarded the "Go Ultra Low Company" status, in recognition of their contribution to lowering emissions by adopting Plug in Hybrid Electric Vehicles (PHEVs).
The new initiative recognises UK businesses which are embracing electric vehicles as part of a new government and automotive industry initiative run by campaign group "Go Ultra Low." Public and private sector organisations that already use EVs, or offer them to employees as company cars, are eligible for Go Ultra Low Company status, providing there's a commitment for EVs to make up at least 5% of their vehicle fleet by 2020. Currently, more than 50% of Vital Energi's cars are hybrid vehicles.
Paul Carberry, Fleet Manager at Vital Energi commented, "We thought very carefully about our fleet strategy as we wanted to reduce our emissions as much as possible while giving our employees the cars that they wanted to drive and PHEVs are perfect, not only for people who have short commutes, but also for those who have good journey management on long distances.
"We've also have some site-based PHEVS on our bigger projects which allow staff to use them, rather than petrol based cars, again, helping us keep emissions down. Our staff has been particularly supportive of our transition to hybrids and we're delighted to pass the half way mark with over 50% of our cars now being hybrids."
This qualifying criteria mirrors Government forecasts that EVs will represent 5% of total UK new car registrations by the end of the decade. The Government has earmarked £600m until 2020 to support the plug-in vehicle grant, expand the charging infrastructure, and boost the electric car industry.
Transport Minister Andrew Jones said: "It's great to see a growing number of British fleets going green and I would encourage other businesses to learn from these Go Ultra Low companies and benefit from the huge fuel and tax savings offered by electric vehicles.
"The UK is a world leader in the uptake of low emission vehicles and our long-term economic plan is investing £600 million by 2020 to improve air quality, create jobs and achieve our goal of every new car and van in the UK being ultra-low emission by 2040."
blog comments powered by

Disqus