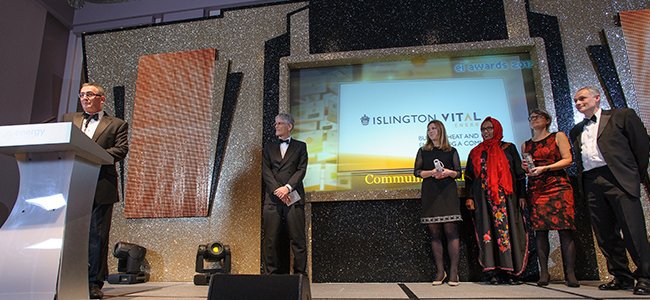 Heating Scheme that Cuts Bills by 10 Per Cent Wins Top Energy Award
A London heating scheme that tackles fuel poverty by cutting connected residents' heating bills by at least 10 per cent has won the Energy Institute's Community Initiative Award.
Bunhill Heat and Power, installed by Vital Energi on behalf of Islington Council, pipped fellow nominees to the post to pick up the prestigious award at a ceremony held on Thursday 14 November at the Sheraton Park Lane Hotel, London.
The Combined Heat and Power (CHP) energy centre and district heating network supplies electricity and heat to more than 700 Islington residents and two leisure centres by the efficient capture and use of heat as a by-product of electricity generation.
It was developed to cut fuel costs for low income families living in this deprived inner city London ward.
Ian Whitelock, joint managing director of Vital Energi, commented: "We are delighted that Bunhill has received this award in recognition of the benefits it is bringing residents in the borough by providing more efficient, cheaper and greener energy than traditional production processes.
"It will save money for hundreds of local residents at a time when the cost of living is rising and energy bills are soaring and will therefore make a real difference to residents' lives."
Cllr Richard Watts, Leader of Islington Council, said: "The Bunhill Heat Network is part of Islington Council's work to help people manage the rising cost of living.
"Last winter was one of the coldest for decades and record energy prices meant many families on fixed incomes spent it in misery, unsure whether to heat or eat."
blog comments powered by

Disqus