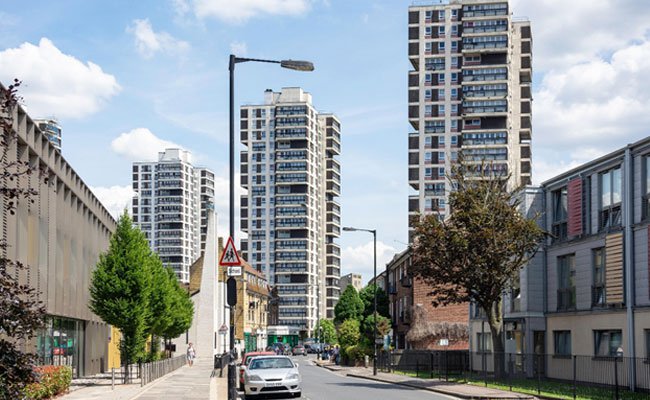 MEEF Funds Innovative Retrofit of Three Heat Networks With Water Source Heat Pumps Supporting Southwark's Green Recovery
The Mayor of London's Energy Efficiency Fund ('MEEF'), managed by Amber Fund Management Limited ('Amber'), has provided £7 million to the London Borough of Southwark ('Southwark') to support a highly innovative project to provide low carbon heat to over two thousand homes in the borough. The MEEF finance provides for the installation of Water Source Heat Pumps ('WSHP'), a renewable and energy efficient technology, to replace existing gas boilers in three housing estates within the borough.
The project will extract heat from water that occurs naturally below ground using 'open loop' supplied Water Source Heat Pumps to increase the temperature and this heat is then fed into a heat network which supplies the heat direct to homes.
When completed, the WSHP technology will become the primary heat source for the heat networks on the Consort, Newington and Wyndham housing estates supplying low carbon heat to 2,175 homes with no additional costs passed on to the residents. The project will save 1,774 tonnes of CO2e /annum, the equivalent of taking over 1,600 cars off the road, and it is expected to reduce energy usage by over 34% compared to the existing heating systems while also creating 3.4MW of renewable energy. The heat pumps will also make a positive contribution to local air quality by replacing the existing gas boilers, which emit harmful NOx and particulate matter.
Southwark has procured Vital Energi a district energy specialist, to design, construct and operate the scheme. The project will support up to 45 new jobs with Vital Energi ensuring a number of these roles will be filled by apprentices from within the Borough.
The scheme supports Southwark and the Mayor of London, Sadiq Khan, in their efforts to tackle the climate emergency. Low carbon district energy projects like this will have an important role to play in the Mayor's ambitions to make London a zero-carbon city and support the capital's green recovery.
Deputy Mayor for Environment and Energy, Shirley Rodrigues said: "Energy used to heat and power homes is responsible for around one third of the capital's greenhouse gases, so low carbon heating solutions like this project have a crucial role in tackling the climate emergency and making London a zero carbon city by 2030. This is a fantastic example of how we can combine low carbon heat sources and heat networks to supply homes with green and affordable heat. The project also supports the Mayor's ambition for a green and prosperous recovery, creating the jobs and skills of the future for Londoners and supporting the industries that are crucial to meeting our city's climate targets."
Cllr Kieron Williams, Cabinet Member for Housing Management and Modernisation, said: "We're delighted to be introducing this innovative new technology to help improve local air quality and provide reliable, cost effective heating for the people living on our estates.
Working with Vital Energi and with finance from the Mayor's Fund, this decarbonised heating system takes us another step towards carbon neutrality and promises benefits for many local families."
Pete Radford, Investment Director, Amber Infrastructure, said: "This is MEEF's first investment in Water Source Heat pumps. With the recent extension of the RHI we hope to support further innovative heat pump projects which contribute towards the much required decarbonisation of heat."
Rob Callaghan, Vital Energi, said: "We are proud to be part of such an important project in helping Southwark, London and the UK Government towards our collective goal of a greener, low carbon future. With district heating being technology agnostic, we are able to upgrade the central energy production technology to low carbon sources, in this case Water Source Heat Pumps and with that, using the heat network we can decarbonise 2,175 connected homes."
blog comments powered by

Disqus