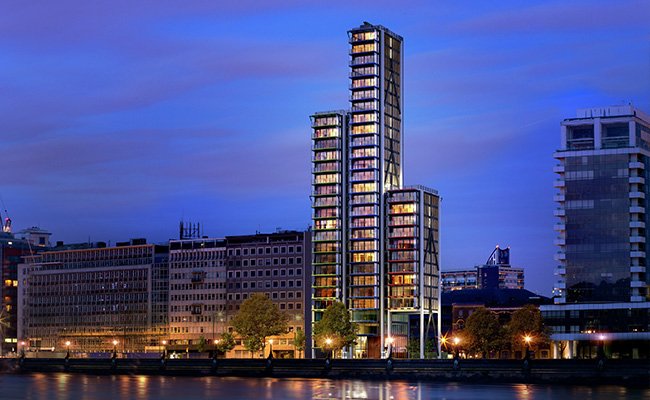 Merano Sustainable Apartments
Vital Energi have secured a £3.5 million deal to provide the complete low-carbon energy solution for one of the capital's most anticipated residential developments which is being delivered by St James.
The 28-storey Merano Residences development, situated on the Albert Embankment, overlooking Tate Britain, will have an ultra-efficient Combined Heat and Power (CHP) energy centre, designed to significantly lower CO2 emissions when compared with traditional heating systems.
When combined with design features and sustainable technology, such as solar panels, Merano Residences is expected to achieve Code for Sustainable Homes Level 4 and BREEAM "Very good" rating.
The project has also been "future proofed" so that it will have the capacity to connect to any future district heating and is at the forefront of the Nine Elms regeneration, the largest development of its kind in the UK.
Rob Callaghan, Regional Director explained, "This is a building designed by one of the most renowned architects in the world and delivered by one of the most prestigious developers in the UK so it is no surprise that is a great example of urban sustainability. Merano Residences will be a fantastic addition to the Nine Elms neighbourhood and because it is "district heating ready" it also has the opportunity to connect to what could become one of London's major heat networks, which will drive down emissions even further."
The development, in Lambeth is built on the site of the former Eastbury House office block and will offer 40 new 2-3 bedroom luxury apartments as well as ground floor retail, offices and a 4 storey public space which will include a café and Piazza.
Vital Energi will install the underground CHP energy centre, which will take the waste heat created during electricity generation and use it to provide heat, hot water and cooling for businesses and residents.
blog comments powered by

Disqus