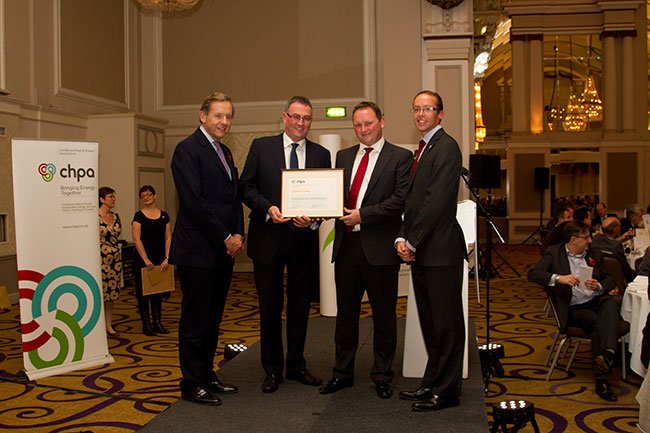 Vital Energi Win CHPA Awards
Vital Energi have enjoyed double success at the recent CHPA Awards ceremony by winning the Integrated Technology and Campus, Community and Residential awards.
Vital Energi and our sister company, Vital Efficienci shared the Integrated technology award for our work at York Teaching hospital, which was procured through the Carbon & Energy Fund (CEF).
Brian Golding, Energy Manager at York Teaching Hospital commented, "This was a great partnership where both parties were dedicated to achieving a clear goal. We wanted to save money which we could then spend on front-line clinical services and we wanted to drive down our carbon emission and Vital Energi have helped us do this. It's a project we're extremely proud of and I think this award demonstrates how important the work at York Teaching Hospital has been."
The project will provide guaranteed financial savings of over £12.7 million and carbon reductions of 45,000 tonnes over its 15 year lifecycle. The project saw us adopt a two stage strategy, with Vital Efficienci focusing on reducing energy demand before Vital Energi designed and installed a CHP energy solution.
Clive Nattrass, CEO of the CEF said "Vital Energi are one of the more successful contractors on the CEF framework, and the York contract is a perfect example of the innovation that a good contractor can bring to a NHS energy scheme. The Vital Energi bid outperformed the project feasibility by more than £1m."
We also shared the Campus, Community and Residential prize with Edina for the University of Liverpool project which saw us renovate the partially derelict Grade II listed former mortuary and install a 21st century CHP energy centre in it, safeguarding a fantastic building for future generations.
Ian Murray, Consultant Project Manager at the University of Liverpool commented, "This is a project which will benefit the University, and the local community for decades to come and we're delighted it's been recognised at such a prestigious national awards ceremony."
If you'd like to know more about our award-winning work on these projects you can read the case study for York Teaching Hospitals here and The University of Liverpool here.
blog comments powered by

Disqus