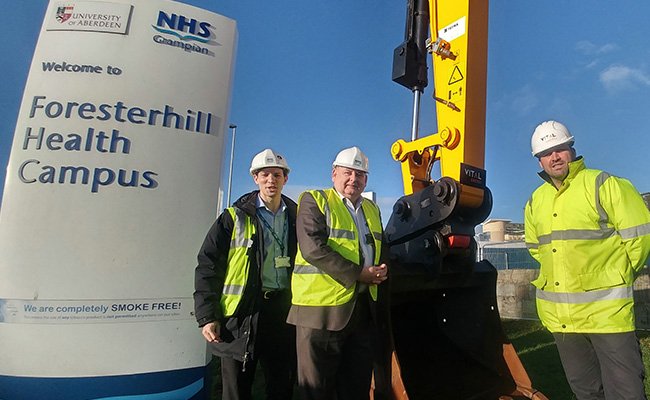 NHS Grampian Leading the Way with Scottish First in Energy Efficiency
Two of Grampian's flagship hospitals are set to become the first in Scotland to share a single energy source in a ground-breaking project that will reduce carbon emissions by 16%, it was announced last week.
The work is part of a range of energy efficiency initiatives which are being delivered by Vital Energi and will reduce energy costs and the associated carbon emissions across NHS Grampian's estate. The project is being delivered using the Carbon & Energy Fund contract model with Vital Energi appointed as the main contractor responsible for the installation and on-going maintenance of the infrastructure over an agreed 25 year contract period.
Work began this week to create a pioneering 'energy link' between Royal Cornhill Hospital and Aberdeen Royal Infirmary at the Foresterhill Health Campus.
Ashley Malin, Project Development Director with Vital Energi, said: "We are delighted to be working with NHS Grampian to revolutionise the way they generate and use their energy. This new system will deliver huge financial and carbon savings over the next 25 years, all of which is guaranteed under an energy performance contract. I'm sure many other Trusts and Health Boards will paying close attention to what is being created here and I think it's a great case study for what the public sector can achieve."
The link will allow the Foresterhill Energy Centre to operate at its full potential and supply heat and power to both sites. The energy centre, which came online in 2012, has already reduced emissions by 4,500 tonnes a year and the new energy link will see this further reduced by an anticipated 5,700 tonnes annually.
Under the contract NHS Grampian will benefit from significant investment in infrastructure over the next 25 years. That includes lifecycle replacement of assets throughout the contract period, with the cost of the infrastructure offset by guaranteed savings generated through reduced energy costs.
Robert Hobkirk, Head of Sustainability Compliance and Risk at NHS Grampian, said: "We continually look forwards to ensure what we do has a minimal environmental impact which is why those considerations have been at the heart of these improvements from the outset.

"We are also fortunate to have benefited from the expertise and advice of Vital Energi who have considerable experience in delivering these types of large scale energy projects."
In addition to the energy link, we have recently completed the installation of 6,000 energy efficient, LED lights in corridors, waiting areas, offices, wards and treatment rooms and the replacement of the aged boilers at Dr Grays Hospital in Elgin with more efficient, dual fuel boilers.
Work currently underway includes installation of a new computerised, SCADA system, to provide NHS Grampian with greater control of heating and power levels and help ensure that the systems are running as efficiently and as cost effectively as possible; upgrading of the steam and condensate return systems within the laundry and the replacement of chiller units within Aberdeen Royal Infirmary.
Graham Mutch, Head of Maintenance and Technical Services for NHS Grampian, said: "We are extremely proud to be at the forefront of pioneering developments in energy efficiency. This project is a firm demonstration of our commitment as an organisation to ensuring that we are as environmentally friendly as we can be.

"This work will also allow us to 'future proof' these sites, providing energy for the likes of the new Baird Family Hospital and ANCHOR centre that are due to be built over the next few years."

Mr Mutch also said a number of studies have shown a clear link between the reduction in carbon emissions and improved health in the local community so these changes could also result in longer term health benefits for the north east of Scotland.
blog comments powered by

Disqus