Preconstruction
Surveying – Developing an Accurate Understanding of the Environment
Whilst new build projects have the benefit of straight walls and level floors, making the mechanical layout planning relatively simple, extensions and retrofit projects are often in older structures which have seen building movement over the years. As some of our more complicated projects deal in tolerances of millimetres, an accurate survey can be essential for creating an access and egress plan and mistakes at this phase can be extremely costly to rectify.
Our in-house architectural team are experts in assessing the strength of old structures and can calculate if they are capable of bearing the necessary loads, which can be significant given that individual pieces of plant can weigh in excess of 120 tonnes. If the structures are unable to take this weight we can create solutions, such as free-standing steel frames, which accommodate and transfer the loads suitably.
Utilising In-house Architecture & Structural Engineering Skills to Deliver the Ideal Energy Centre
Our involvement in a project can begin in a number of ways:
Receiving a building footprint from the client and undertaking all design
Further developing outline and concept designs
Delivering ready to build architect's designs
We work closely with clients to ensure that our designs meet their aesthetic needs and often inherit specific requirements, such as a specific cladding or design features which we integrate. If necessary, we can source and liaise with specialist architects to ensure that even the most complex build is delivered in a timely and cost effective manner.
On retrofit projects we often repair existing steelwork or strengthen the foundations with piling or concrete slabs and in instances where the building cannot take the loads, we create innovative and cost-effective solutions. An example of this approach can be found on the Grade II listed Mortuary Building at The University of Liverpool. Our team assessed that the 100+ year walls would not take the loads necessary, so they created a 3 storey steel frame which meant none of the weight transferred to the walls… Essentially creating a building within a building.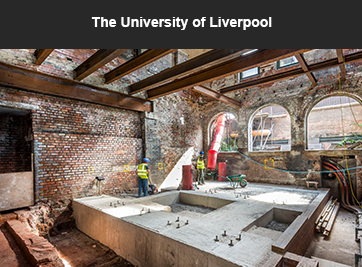 For new build projects we take a brief from the client and work with them to deliver an optimised solution, often exercising creativity to deliver the brief, optimising building form. We can work with you to ensure your energy centre can be built to an efficient footprint and we have created a range of solutions, such as multi-mezzanine designs, to create a safe, maintainable solution.
Whilst remedial measures can be taken on retrofit projects, new builds offer the exciting opportunity to integrate building measures which can address crucial areas such as noise, vibration and ventilation. Taking a holistic approach and considering these features at the very beginning will often result in better integration into the project.
To do this, architects and designers can call on a number of solutions which mitigate the problem areas. These can include measures ranging from cladding thickness through to supplementary internal layers of lining to prevent acoustic transmission… Something which can be particularly effective when working in stringent noise areas.
Adopting a Value Engineering Approach to Construction
No matter how advanced a building design is, we will review it to see if we can make improvements through value engineering. By working directly with our internal mechanical design team we can often deliver significantly smaller building footprints and have reached reductions of up to 30% in floor space compared to original concept plans. On developments, where space is at a premium, this can provide much needed land that can be otherwise utilised, whilst on public projects it can significantly reduce the capex cost of developing the building and operating costs associated with building charges.
Reducing the amount of steel in a building is key to reducing the build cost and initial designs can often be over engineered in this area. Our team has over 30 years' experience of performing these calculations and can ensure a safe and viable solution. As steel is one of the largest expenses involved in the building envelope this can deliver large savings when compared with the initial design.
Supporting & Guiding Clients through the Planning Phase
Our in-house team have extensive experience of guiding projects through the planning stages in both England and Scotland. This can range from the standard drawings, such as elevation, through to detailed reports in core areas such as environmental, acoustic and flue gas dispersion reports and work with specialist engagement and communications partners to deliver comprehensive engagement programmes including soliciting and analysing feedback.
We can also respond to specific requests from clients and planners through our in-house expertise and we have a nationwide network of specialist contractors we can work with. An example of this can be found in the Manchester Civic Quarter project where planners wanted to understand the visual impact of a 40m flue in the town centre. Vital Energi were able to work with partners who produced 3D, "photo realistic" street level artists' impressions which illustrated how the area would look post-construction and these satisfied the planner's requirements.
Technical Capabilities
Vital Energi is BIM Level 2 compliant and can illustrate separate building, mechanical and district heating models which can be combined to create a cohesive and comprehensive 3D overview of a project.
In some instances we have delivered 3D models as early as the tender stage to help the client visualise the plans. Unusually for the industry, we can also model district heating pipework in 3D which can be integrated into the larger model, giving the client and other contactors the most comprehensive overview possible.
In many instances we can undertake 3D scans using the latest GPS Point Cloud systems which are millimetre accurate and collect 1 million points of data per second. We used this approach on the University of Strathclyde project, converting the data into a 3D model which was so accurate it not only captured the dimensions of the structure, but even the texture of the surfaces. We can work in all the major software packages, often agreeing to the client's specifications at the bid stage, to ensure compatibility with them and their professional team throughout.