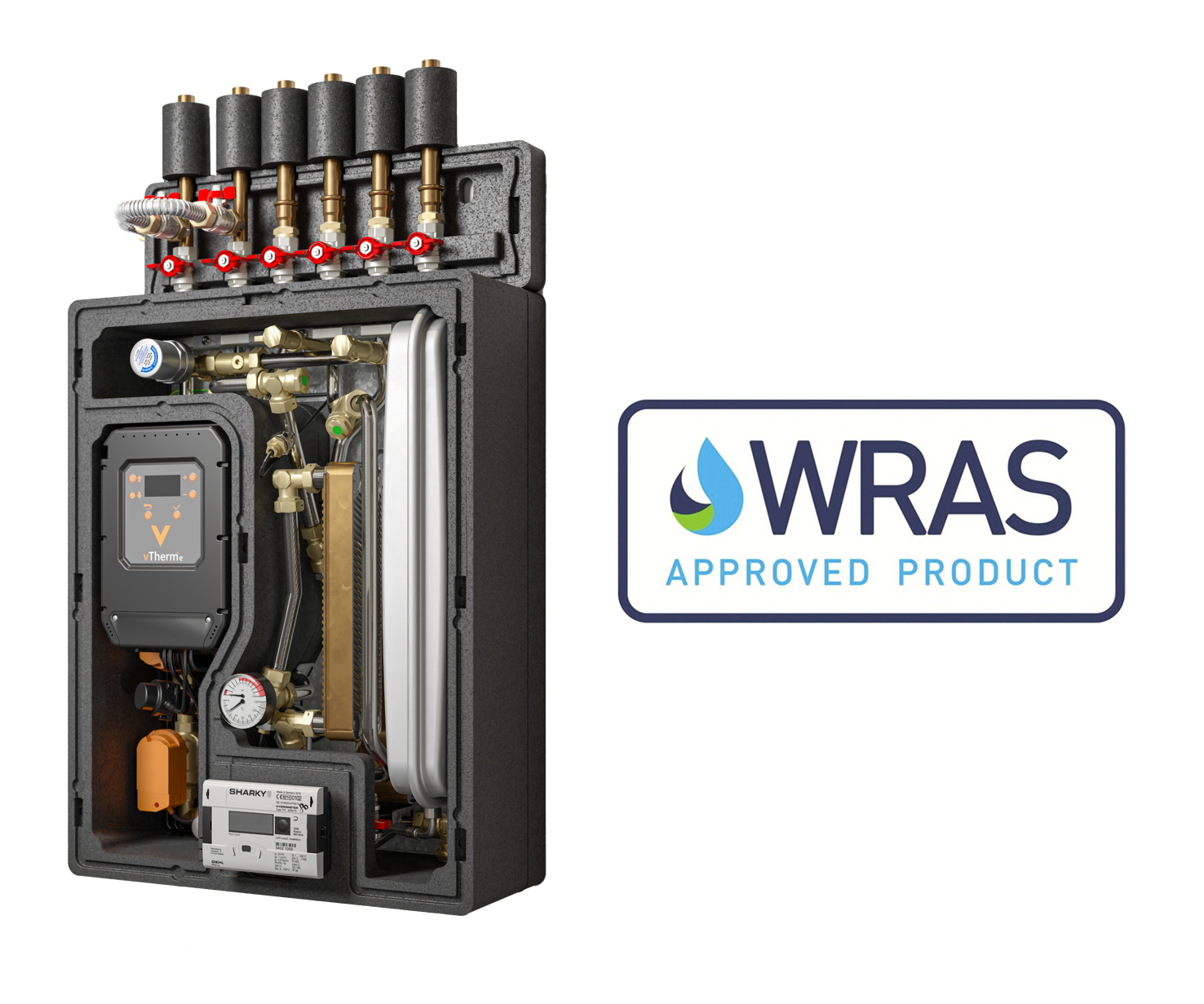 Key Statistics
BESA High Temperature VWARTs (70°C)
Manufacturer
VWART

v

Therm

°

t
27°C

v

Therm

°

e
27.9°C
Manufacturer 3
28°C
Manufacturer 4
30.9°C
BESA Low Temperature VWARTs (60°C)
Manufacturer
VWART

v

Therm

°

e
29°C
Manufacturer 2
29.2°C

v

Therm

°

t
31°C
Manufacturer 4
31.5°C
Optional Extras
The vTherm°e heat interface unit offers a variety of additional features which can be ordered to ease installation and improve efficiency.
First fix valve rail to protect the HIU by allowing the installation to be undertaken without the HIU on site
Fully insulated valve box to reduce heat losses and to improve aesthetics
Pipe bracket to allow up and down connections
Flushing bypass allows flushing of the primary network. Especially designed to be removed after flushing to ensure that it cannot be left in an open posistion acidentally, preventing uncontrolled flow with high return temperatures that can affect network performance
Weather compensation to reduce energy consumption and bills
Images for the optional extras are available in the downloadable Product Overview booklet.
Request vTherm° Documents
Key Features
The new space saving

v

Therm

°

e (electronically controlled) Heat Interface Unit (HIU) is designed to minimise heat losses and improve the efficiency of your district heating scheme
vTherm°e is a WRAS approved unit

v

Therm

°

e achieved the lowest VWART at 60°C, of any heat interface unit results currently published under the 2018 testing regime. See our results: https://www.thebesa.com/ukhiu
Weather compensation to reduce energy consumption and bills
Low noise levels, an overall sound power measurement of 31.8db has been determined following the recommendations of ISO3744
The product range is available in a variety of outputs providing instantaneous Domestic Hot Water (DHW) and Heating (HTG) for radiators or Under Floor Heating (UFH) systems
Instantaneous hot water is produced via a plate heat exchanger and PICV with actuator, allowing hot water to reach the tap at the desired temperature without delay, even during low demand periods
The HIU provides complete separation between the primary circuit or central plant system to the secondary side installations
The design of

v

Therm

°

e gives DHW priority, as soon as there is a DHW demand the HIU diverts the flow of primary water to the DHW Heat Exchanger to provide a stable DHW supply
Intelligent data collection on the performance of the unit through state-of-the-art communication interfaces
The range of options allows any metering system to be utilised and includes:

Modbus
M-Bus
Radio
Wi-fi
RJ45
Bluetooth
Operation & Maintenance
The casing is built in 3 sections to streamline Commissioning, Operation & Maintenance
The HIU has been designed as a wall mounted product with all connections upwards, however further options are available
Dimensions of standard

v

Therm

°

e unit: Height. 690mm x Width. 530mm x Depth. 250mm
Further operation & maintenance details are available in the downloadable Installation, Commissioning and Maintenance Guide.